1964 Pontiac GTO - best muscle cars
The original 1960s muscle car, the Pontiac GTO had amazing performance for its day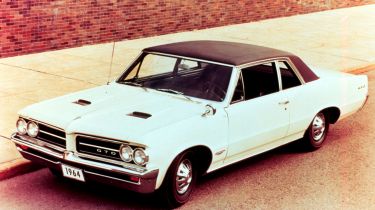 The Pontiac GTO is widely acknowledged as the car that really kicked off the 1960s Muscle Car era. It was initially offered as an optional package on the mid-size Pontiac Tempest and was the first truly mass-market high performance model to follow the big displacement engine route, using a tuned 389 cubic inch (6.4-litre) V8 engine in place of the entry-level Tempest's 140bhp six.
The top-spec GTO package included triple carburettors giving 348bhp, a four-speed manual gearbox, uprated suspension, wider wheels and bonnet scoops.
It cost just $4,500 with all the options, which equates to about £24,000 in today's money. Not bad for a car that would race from 0-60mph in just 5.7 seconds – performance for its day and for the price that was so astonishing that magazines of the period tested the GTO against its namesake, the Ferrari 250 GTO just to see what it could really do.