Blog: Corvette Stingray, what's the big deal?
The launch of the new Chevrolet Corvette Stingray is huge news in the States, but should we take notice?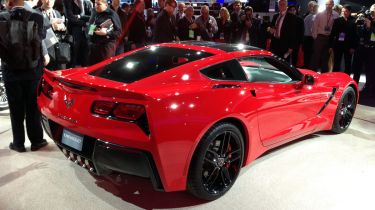 As a Brit it's hard to see what the fuss is about with the new Chevrolet Corvette Stingray. Looking at the pictures pre-show and studying the spec sheet, it seemed like more of the same from Chevy - a large V8 clothed in the automotive equivalent of Michael Jackson's Thriller jacket.
OK, so the switch from a steel chassis to aluminium, occasional use of carbon fibre and a higher-quality interior have moved it forward, but not beyond that of its main competitors. And then there's the design - it's got a lot more going on than the current car and will have young boys flocking to buy the poster, but could you really imagine driving one in the UK without receiving torrents of abuse and unsightly hand gestures?
But then it clicked. This car isn't for me, or anyone that lives outside the US for that matter. It's the American dream with four wheels and four exhausts, and if you don't like it, you can get lost.
"You've probably heard it as a tag line, but it's true; the Corvette is more than a car, it's pure emotion," Craig Sass, the Corvette's interior design manager, told us. "When the workers put it together they take pride in their work, it means more than just building a car."
I then asked Tadge Juechter, the Corvette's chief engineer, what he thought made it so special: "America has a 60-year love affair with this car, it's a cultural icon. Over here it's a symbol of freedom, of the open road."
By way of contrast I asked Franciscus Van Meel, head of Audi's quattro GmbH division and a man without an American bone in his body, what he thought. "The performance is no match for an RS6," he replied. "I like the wraparound interior and black wheels, but we're not in danger." As suspected, an emotionless response.
So what can we learn from all this? Well, the message seems to be clear - a car is more than simply the sum of its parts or its perceived quality, it's about what it means to the individual. Talk to any American and it's clear the Corvette means an awful lot.