Chevrolet Matiz Hatchback review (2005-2010)
.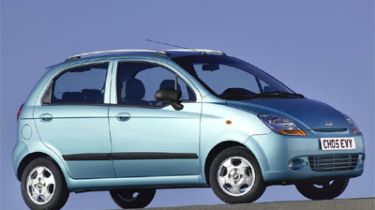 With the change from Daewoo to Chevrolet the Matiz has seen more than just a change of badge. Along with a freshened up look, the tiny town car gets a thorough re-engineering, with revisions to both the 796cc and 1.0-litre engines to improve emissions and economy. There's been suspension alterations too, enhancing comfort and body control. Refinement has also been looked at, with good effect, the engines nicely muted and wind and road noise also well suppressed. That's just as well, as those little engines need working quite hard to perform, oddly, the peppy nature of the smaller engine better suiting the Matiz's character. In both the gearshift is long in throw but it's precise, something that can't be said about the steering, which is rather light and uncommunicative.
As well as better refinement and more space in the boot due to the repositioned suspension the Matiz gains equipment, too. Twin front airbags, a CD player and ABS all feature, allowing the Matiz to better rival newcomers like the Aygo, C1 and 107. Space has always been a Matiz strong point, with it able to accommodate four adults in reasonable comfort, something that many newer rivals struggle to match. Three trim levels are offered, with S, SE and SX models available, the S starting the range at just over £6,000, which is a lot of car for the money. Only image lets it down, with rivals offering more attractive Toyota, Citroen and Peugeot badges, the Matiz might struggle.
Engines, performance and drive
0
MPG, CO2 and Running Costs
0
Interior, design and technology
0
Practicality, comfort and boot space
0