Domino's Pizza 'Delivery Expert' car to earn its crust in the US
US pizza firm creates custom Chevrolet Spark-based delivery car, which can keep up to 80 pizzas hot at a time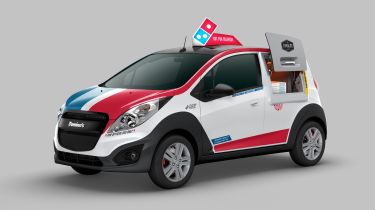 Gone are the days when a takeaway pizza arrives to your door crammed in the back of an old moped. Domino's USA has unveiled the new 'Domino's Pizza Expert' (DXP), based on the Chevrolet Spark city car.
It's a bespoke design that emerged from a crowdsourcing venture in Michigan, and the pizza-maker plans to slowly roll out the DXP in 25 US cities. As well as the redesigned exterior and branded livery, the car gets a neat feature that will ensure orders arrive piping hot.
Behind the driver's seat, where the rear bench would usually be, there's a large warming oven that you can access from outside using the keyfob. It can hold two 'Heatwave' bags, while the rest of the rear cabin is decked out with storage compartment for drinks and dips. The whole car can carry up to 80 pizzas at a time. 
The bad news for UK buyers? The DXP isn't expected to make it to the UK, as Chevrolet has pulled out of the market here. There's nothing to stop the firm from creating their own from a European model, however.
Is the pizza delivery car a good idea? Let us know what you think below...