'The Citroen Ami is the perfect affordable car for short journeys'
Having lived with a Citroen Ami for a few weeks, editor-in-chief Steve Fowler is delighted that it's coming to the UK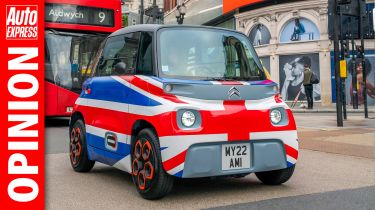 You'll know that we're fans of the Citroen Ami – we gave it our Technology Award this year. So we're delighted with the news that Citroen has listened to the public and will be bringing it to the UK.
The Fowler family was lucky enough to live with an Ami for a few weeks earlier in the year and we can see how it will fit into many people's lives as part of their household's fleet; it certainly could with us.
It proved popular with my twin boys for commuting and visiting their pals. My daughter used it locally for work. Even my 81-year-old mother-in-law was eyeing it up for trips to the supermarket. It's not perfect, though. My wife, for example, prefers a little more luxury, so it wasn't for her. But for those who just need an affordable car that doesn't have to go very far, I reckon it's perfect.
Especially at the price. If Citroen really can get it on sale in the UK for not far from its equivalent price in France – starting at around £6,000 – that will be fantastic. A friend of mine has just bought a Honda e as a local runaround – a great car that has space for four, a boot and some fancy tech, and will go further than the Ami. But it costs well over four times what the Citroen does.
Apparently, 12,000 people here have already registered their interest in the Ami. I'm sure Citroen doesn't expect them all to convert into customers, but this is a brilliant example of Citroen HQ listening to buyers and to its UK division. Brand CEO Vincent Cobée admitted that the work done by UK MD Eurig Druce and his team had persuaded him to bring the car to the UK. "We never planned it for the UK," Cobée told us, "but Eurig said, 'I'll show you I can sell it.' This is the type of business I like."
Druce has interesting ideas for Ami. "You can't have a car that's innovative and drive it conventionally," he said. "I would love to see Amis on street corners, where it could become the norm to not get an Uber, but to get an Ami." No wonder other car makers are watching so closely.
Looking to buy an electric car in 2021? These are the best EVs on sale today...