Citroen C4 Cactus - best crossovers
The C4 Cactus is a funky looking crossover that has plenty of practical touches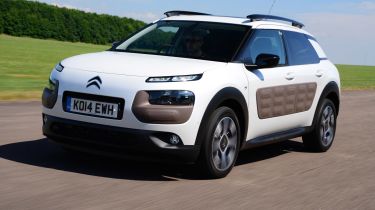 Citroen has tried to shake up the compact crossover segment with the C4 Cactus. Looking like nothing else on the road, it has bold looks, an innovative interior and attractive pricing. 
Few cars attract this much attention at any price, but with prices starting at around £13,000, the C4 Cactus is a particularly compelling proposition. It conforms to a less-is-more philosophy with a focus on reducing weight and running costs, and an emphasis on ride comfort rather than sharp handling.
To save space on the inside, Citroen has opted for two screens in place of the usual cluster of dials and buttons. Despite the attempts to stay simple and save weight, the C4 Cactus feels suitably hi-tech. 
On the outside, a bold front-end design and Airbump panels - designed to protect the paintwork from dings and scrapes - ensure the Citroen attracts attention on the road. Different colour options for the Airbump panels mean you can make your C4 Cactus as individual as you like, too.
The interior shows some signs of where weight and costs have been cut, such as the single-piece rear bench and pop out rear windows, but it feels far from basic thanks to the touchscreen and a premium touches such as the luggage handle-inspired door handles. 
The most fuel-efficient model is the BlueHDi 100, which uses ultra low rolling resistance tyres to achieve an incredible 91.1mpg. The petrol engines aren't far behind either with even the most powerful PureTech 110 three-cylinder turbo returning a claimed 60.1mpg, while covering 0-62mph in a sprightly 9.3 seconds.
The combination of a low running costs and a cheap list price mean the C4 Cactus earns a rightful place in this list.