Coronavirus: what's it doing to the car industry?
Factory shutdowns, staff working from home and event disruptions and the fight back: we round up how coronavirus is impacting the car industry and its workers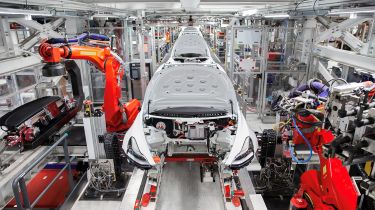 Almost no corner of the world is untouched by the coronavirus. The COVID-19 pandemic has been described by the UK Prime Minister as "the worst public health crisis for a generation."
The wellbeing of friends, family members and fellow human beings is clearly the first concern, but after that the global economy, which influences and underpins so many aspects of modern life, must be considered.
The car industry, as one of the most international and interconnected industries in the world, is perhaps more exposed to the effects of coronavirus than many other businesses. We saw in March, for example, that new car registrations in the UK fell by 44.4 per cent, leaving them at the lowest level seen since the 1990s.
Here, we look at the impact coronavirus is having on the car industry, taking in everything from how factories, dealerships and businesses are affected, to which events have been cancelled, and how car makers are offering their services to help in the fight against the virus.
You won't find any health information here - visit the Government's official pages for that - but you will find an overview of how one of the largest, most global industries is being impacted by the coronavirus...
Car factories reopen; dealers to follow as early as 1 June
The UK has now passed the peak of the coronavirus and the Government has started to ease some of the lockdown measures. Many car factories have been planning to reopen with social distancing measures in place for some time and they are now allowed to go ahead with this, as the Government is actively encouraging anyone who cannot work from home to travel to their place of work, avoiding public transport if at all possible.
As non-essential businesses, car dealerships will not be allowed to reopen until 1 June at the very earliest. They are allowed to offer a click and collect service, however, and can continue selling cars remotely (i.e. online with home delivery) as they have been throughout the lockdown.
UK new car registrations plunge 44.4%
Fears of a large decrease in UK car registrations came true in March. There was a 44.4 per cent drop to 254,684 units - the lowest figure recorded since as far back as the 1990s. It was the same story across Europe - Italian sales were down 85 per cent, France down 72 per cent and Spain dropped 69 per cent.
The SMMT (Society of Motor Manufacturers and Traders) is now predicting that the UK new car market will be down 23 per cent for the whole year to some 1.73 million units.
Jaguar Land Rover to make protective visors for NHS
Jaguar Land Rover (JLR) is using the 3D printing facilities at its Advanced Product Creation Centre in Gaydon, Warwickshire to produce protective visors for NHS workers.
Prototype visors were tested by teams from two NHS Trusts, with production line assembly subsequently starting on 31 March. At first, JLR will be making 1,300 visors per week, but the goal is to increase this to 5,000.
The visors are fully reusable, with staff able to dismantle and clean them. Their production is hoped to combat the NHS's current shortage of personal protective equipment.
Over 1.1 million European automotive industry jobs have been affected by coronavirus so far
At least 1,110,107 jobs in the European automotive industry have been affected by the coronavirus pandemic so far, according to data from the European Automobile Manufacturers' Association (ACEA).
The figures refer to Europeans - including Britons - directly employed by car, truck, van and bus manufacturers, who have been affected by factory shutdowns caused by COVID-19. The wider impact across the whole automotive supply chain is thought to be even more severe.
Some 1,231,038 vehicles that would have been produced have not been due to the coronavirus, with the average shutdown duration currently standing at 16 working days.
The European automotive industry provides 2.6 million direct manufacturing jobs, with 229 vehicle assembly and production plants operating across the continent. The wider automotive sector provides indirect and direct jobs for 13.8 million people in Europe.
Eric-Mark Huitema, director general of the ACEA, said: "Right now, the primary concern of ACEA and all its members is to manage the immediate crisis facing the auto industry, which has essentially come to an abrupt halt - something the sector has never experienced before.
"Our first priority is to protect the health and jobs of the almost 14 million Europeans who work directly or indirectly in our sector."
Cancelled events
One of the larger events to be cancelled due to coronavirus was the 2020 Geneva Motor Show, but this was followed by a slew of other automotive fixtures being called off. The Australian Grand Prix has been cancelled, for example, with the China, Bahrain and Vietnam Grand Prix events postponed. F1 organisers originally said they expected May, but this decision has been under constant review and, at present, it looks as though the season will begin in July. The 2020 Goodwood Members Meeting and Festival of Speed have also both been postponed.
Click here for a chance to win a £25 Amazon voucher by answering a few questions on how lockdown has affected your car-buying process...