Cheap Dacia electric cars could be close hints boss
Dacia will tap into Renault-Nissan EV tech, potentially taking advantage of ZOE underpinnings to launch its own affordable EVs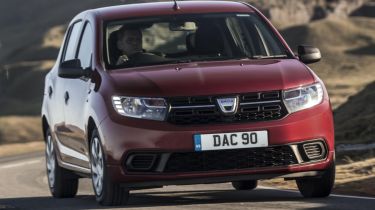 Dacia, the brand that currently sells the cheapest new car available in the UK, will apply its budget roots philosophy to fully electric vehicles in the future, Auto Express can reveal.
The Romanian company will use its position as part of the Renault-Nissan Alliance to develop affordable EVs. The group, which was recently expanded with Renault taking a majority stake in Mitsubishi, will launch 12 new pure-electric vehicles by 2022.
Speaking at the recent Frankfurt Motor Show, Dacia's European chairman Jean Christophe Kugler told Auto Express that his team will look at the technology available to Dacia, and make decisions based on customer demand.
"We will remain shockingly affordable," Kugler told us. "We won't change our brand territory. We will benefit from the Alliance strength and the proven technology – so we can fit that to a Dacia. We have all the [electric] technology ready and on the shelf. Being part of the bigger Alliance means when we need a technology, we have it. We don't have to negotiate."
Although the timeframe for the brand's first electric car is unclear, Kugler hinted that an electrified Dacia could appear sooner rather than later. "Maybe there is three or four years difference between the more advanced [Alliance] cars and the technologies we have," he told us.
"We look at when it will be affordable. We stick to our business model and when it is ready and when there is a request we will plug it."
In order to make Dacia's electric vehicle as affordable as possible, it's likely that the brand will use the underpinnings and electric motors from the current Renault ZOE – Europe's best-selling electric car.
The ZOE was recently updated with a more powerful 41kWh battery, which Renault claims allows a 180-mile driving range. The smaller and cheaper 22kWh battery limits range to around 100 miles.
As well as electrification, Dacia will branch out into autonomous technology, albeit only on a very basic level.
"Electrification of the market is obvious. Autonomy and connectivity will also be increased," Kugler added. Dacia's commitment to autonomous driving will be restricted to rudimentary things such as adaptive cruise control and automatic gearboxes – features that "delegate" tasks to the car.
Would you be interested in a low-cost Dacia EV? Let us know in the comments below...