UK electric vehicle drivers face charging point struggle
The UK's EV charging infrastructure is still underdeveloped according to new nationwide study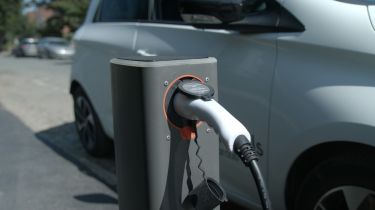 A study by British charging point manufacturer Andersen has revealed that the UK electric vehicle charging infrastructure is still heavily underdeveloped, with parts of the country having to share one on-street charging point between 1,000 vehicles and large discrepancies throughout the nation's regions. 
On average, UK EV drivers share one charging station between 55 cars. However, drivers in the South West have just one on-street charger to service every 1,448 vehicles, while those in Yorkshire and the Humber have to share one charging point between 1,019 cars.
• Electric car charging in the UK
Unsurprisingly, London is the best supported region in the UK, accounting for 78 percent of all the UK's commercial charging points – although the spread of charging points shows favour towards some of the capital's wealthier boroughs.
In areas such as Westminster, Wandsworth, Kensington and Chelsea, just 10 cars need to compete for each on-street charger. However, residents in the borough of Redbridge have to share one charging point between 237 electric vehicles.
The electric vehicle market is also expected to more than double this year, which will place even more strain on the UK's fledgling commercial charging infrastructure.
Currently, around 80 per cent of electric vehicle owners have access to a domestic wallbox charger. However, a third of UK homeowners have neither a driveway nor garage on which to install the technology. This figure swells to 60 per cent for those living in town and city centres, which could hamper the take-up of electric vehicles.
Jerome Faissat, Commercial Director of Andersen, said: "Electric vehicles are the future of motoring in this country and market share has trebled in the last year with even greater growth forecast over the next 12 months. Even with the pledged Government funding, there is still a huge shortfall in the infrastructure required to serve those who have made the switch so far and is holding others back from making the change.
"A discrepancy in Local Government funding for publicly accessible charging stations is creating a two-tier system in which those living in large properties or illustrious postcodes are better able to benefit from the significant fuel savings and environmental benefits afforded by electric vehicles."
The Department for Transport recently set aside £10 million of public funds to councils, which will fund the installation of a further 7,200 commercial charging stations across the UK by 2021.
Do you think the UK's charging infrastructure will expand fast enough to cope with the uptake of electric vehicles? Let us know in the comments section…