Hydrogen fuel "essential" for future HGVs, says Ford boss
While electric cars are key to improving emissions for cars, Ford sees hydrogen fuel cells as essential for heavy goods vehicles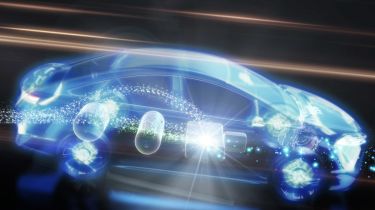 Hydrogen powertrains will be "essential" for heavy goods vehicles as the UK seeks to become a carbon-neutral country by 2050, according to a senior Ford Boss.
Graham Hoare, executive director for business transformation at Ford of Britain, says the end of the decade will be the "sweet spot" for hydrogen fuel cells, which are well-suited to heavier vehicles, such as HGVs. Hoare also said there would be an "opportunity" for hydrogen fuel cell technologies to be fitted to smaller vehicles, such as light commercial vans.
Implementing hydrogen fuel cell vehicles will require "major infrastructure" changes, Hoare said, but he added that there "aren't too many silver bullets" for lorries, and hydrogen technology is "one to watch". There has, he added, been "great progress" both with regard to developments in hydrogen fuel-cell tech, and from energy providers. "It will get much more serious in 2030 for hydrogen", he predicted.
Speaking at the Society of Motor Manufacturer and Traders' annual summit, Hoare's comments were echoed by Bentley chief executive Adrian Hallmark, who said at a certain size and weight, battery-powered vehicles become "unusable" - although both Hallmark and Hoare said pure electric cars are key to their future product line-ups.
Hoare added that while electric cars were clearly the way of the future for cars, the "transition path" for vans looks very different. "I do not see a future from 2035 without some form of plug-in hybrids", he said, a prediction that casts doubt on the government's intention to ban all new cars and vans with any form of internal combustion engine.
Doubts regarding the feasibility of electric heavy goods vehicles have been cast for some years, with some experts predicting the battery pack in Tesla's electric Semi could weigh as much as 14 tonnes, seriously impacting its cargo capabilities.
What do you think of hydrogen-powered cars? Let us know in the comments below...