The world's craziest pick-up trucks
From wacky concepts to rare collector cars and ground-shaking monster trucks – the humble pick-up has always inspired enthusiasts willing to take things to extremes…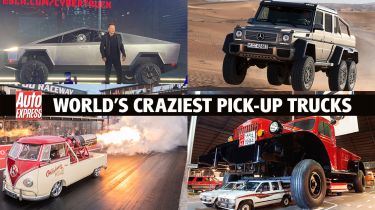 If you think of the pick-up truck is merely a humble working vehicle, think again. Manufacturers and modifiers have pushed the pick-up concept to incredible extremes over the years and we've assembled 26 of the craziest pick-ups ever created.
The pick-up truck was first conceived as a lowly utility vehicle, and the term 'pick-up' became part of the automotive lexicon in the early 20th century. It may not have been the first, but a variant of the Ford Model T with two seats and an uncovered load bed was advertised as a 'pick-up' in 1925, helping to popularise the concept.
By the 1950s drivers in the US were already cottoning-on to the lifestyle advantages of the pick-up as personal transport, which led to the development of car-like models like the Chevrolet El Camino and Ford Ranchero. Quick to follow-up on this developing market, companies soon began to develop ever sportier and more luxurious pick-up options, and once the ball was rolling it has never stopped.
The US is still at the centre of pick-up truck automotive culture, and with vast numbers used as personal transport they have at times accounted for nearly 20 per cent of all vehicles sold there. They became popular early-on too in countries like South Africa and Australia – where car derived pick-ups are known as 'utes' – but nowadays the pick-up has reached iconic status all around the world. Global manufacturers from AMC to Zastava have plied their wares in the sector, and nowadays the cult of the pick-up truck has extended in directions those early Model T Ford-driving pioneers would surely have thought incredible.
In fact, many of the most extreme pick-ups out there seem incredible to modern eyes too. Manufacturers, aftermarket converters and enthusiastic individuals are still competing to create the most powerful, fastest, most luxurious and all-round most outrageous pick-up trucks out there.
We've rounded up some of the craziest results of the world's passion for pick-up trucks, in a selection that covers everything from super-luxurious go-anywhere six-wheelers to wacky pick-up show concepts that never made production.
The focus in most cases is outrageous performance or terrain-crushing off-road ability, but in case anyone thinks that pick-up truck culture is out of step with the times the amazing Tesla Cyber Truck looks set to change the game for future generations of pick-up truck fans.
Meanwhile, read on for our World's Craziest Pick-Up Truck round-up…
Hennessey VelociRaptor 6x6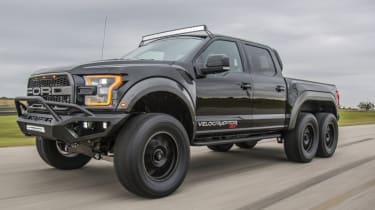 US tuner Hennessey Performance has built a reputation for outrageous horsepower, and the VelociRaptor 6x6 is the company's ultimate upgrade for the Ford Raptor pick-up truck. Twin turbochargers bolted to a 5.0-litre V8 engine produce as much as 785bhp depending on spec, while an extra pair of wheels gives this six-wheel drive monster ultimate traction.
It will do 0-60mph in less than 5 seconds, and no, the owners forking out upwards of $350,000 for a VelociRaptor probably aren't too fussed about the environmental impact.
Read about the pick-up with a Dodge Viper V10 engine on page 2…