The cutting-edge tech of the Ford Mustang Mach-E
A closer look at the state-of-the-art technology at the heart of the Mustang Mach-E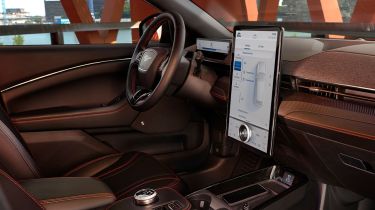 Advertisement feature from

Ford has brought the iconic Mustang name into the electric age with the all-new Mustang Mach-E. This sleek SUV boasts some seriously cutting-edge tech, from the battery that powers its impressive range to touches like an E-Latch system that replaces handles and allows you to open the doors with the touch of a button.
Company car owners may also benefit from the Mustang Mach-E's enhanced connectivity. It could be your next 'mobile office', with onboard 4G on hand to check emails and work diaries when parked up.[1] Let's take a closer look at some of the tech behind Ford's all-electric Mustang Mach-E.
All-electric range
The Mustang Mach-E is Ford's first fully electric SUV, and the manufacturer has ensured it's up to scratch when it comes to quelling range anxiety. Opt for the Extended Range model with a 88kWh battery and rear-wheel drive, and the Mustang Mach-E can reach up to 379 miles on a single charge.[2]
Pair the Standard Range's 68Wh battery with rear-wheel-drive, meanwhile, and it'll deliver up to 273 miles of range when fully charged. Whichever way you look at it, the Mustang Mach-E is more than capable of tackling long-distance drives. When the average daily commute to work is 11.2 miles, according to the RAC, that's easily enough to get you to the office and back for several weeks without worrying about stopping off to charge mid-journey.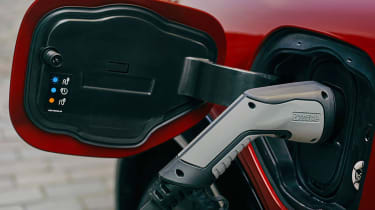 When it does come time to replenish the battery, the Mustang Mach-E's fast-charging capability means you'll be back on the road swiftly. Taking the Standard Range rear-wheel-drive version as an example, you can boost battery level from 10 to 80 per cent in as little as 38 minutes when using high power DC charging.[3] If you opt for a 7kW Ford Connected Wallbox installation, either at home or at your business, then getting the Standard Model's 68kWh battery from 10 to 80 per cent will take around eight hours. That's easy enough for you to leave overnight and have more than sufficient range the next morning.
Driving innovation comes in the form of the one-pedal system. This allows the driver to operate the vehicle with just the accelerator pedal – when you release it the Mustang Mach-E decelerates, using the power generated by the brakes to recover some of the battery's charge. Even when this is in use, the brake pedal can still be operated in the usual way to bring the car to a halt if needed.
Powered by technology
One of the first things you'll notice when you're behind the wheel of the Mustang Mach-E is SYNC 4A, the cloud-connected in-car communication and entertainment system. The 15.5-inch tablet-like touchscreen is your easy way to manage the car's myriad of features, like the advanced route planning or conversational voice recognition that allows you to play music, manage calls or send a hands-free text by speaking the message out loud.
The SYNC 4A touchscreen can also grant access to a digital owner's manual, how-to videos and in-depth information on the vehicle. Plus, you can personalise settings for different drivers, so whoever is at the wheel will have instant access to their display and infotainment preferences. There's full compatibility with Apple CarPlay and Android Auto, too, so you can wirelessly connect to your smartphone through SYNC 4A and keep your phone charged up at the same time.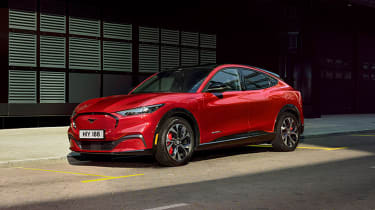 By downloading the FordPass app to your smartphone you'll be able to monitor the vehicle remotely, check on battery charge, tyre pressure, and lock and unlock the car remotely.[4] It even has a handy trip planner function, whereby you use the FordPass app to plan your destination and locate charging points, then send the route straight to the SYNC 4A system in your vehicle. In addition, FordPass can monitor service status and book in your Mustang Mach-E with your nearest Ford dealer, should the need arise.
Partnership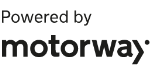 Need to sell your car?
Find your best offer from over 5,000+ dealers. It's that easy.
Regular software updates are now commonplace across connected devices, and the Mustang Mach-E is no different. With over-the-air software updates the car's tech will evolve over time, upgrading the features of SYNC 4A and the vehicle's performance for the owner. Many of these "invisible" updates take place in the background, while major updates that require a system reboot can be scheduled to a time that suits you.
These tech features, coupled with the Mustang brand name heritage and eye-catching design, make it a solid choice if you're in the market for a new all-electric car. What's more, it has the versatility to work as a car for business, family or just the enjoyment of a weekend drive.
Discover more about the all-electric Ford Mustang Mach-E
[1] Wi-Fi hotspot includes complimentary wireless data trial for a limited time only that begins at time of activation
[2] Based on full charge. Estimated range using Worldwide Harmonised Light Vehicle Test Procedure (WLTP). Actual range varies with conditions such as external elements, driving behaviours, vehicle maintenance, and lithium-ion battery age.
[3] Charge power can decrease with increasing state of charge. Actual charge times and charge speeds can vary based on different factors (Weather, ambient temperature, battery temperature).
[4] FordPass Connect, the FordPass App and Complimentary Connected Service are required for remote features. FordPass Connect will be enabled at time of vehicle delivery. You may choose to opt in/out of certain data sharing. Data coverage and service is not available everywhere. Data rates may be incurred. FordPass and Connected Car Privacy Policies apply, available on Ford.co.uk.