Five reasons to choose the Ford Mustang Mach-E as your next company car
Thinking of getting a new company car? Here's why you should consider putting the Mustang Mach-E on your shortlist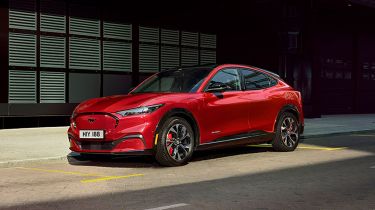 Advertisement feature from

The electric car revolution is upon us, and Ford is leading its charge into this exciting new era with the all-new Mustang Mach-E. The five-door family SUV combines styling inspired by Ford's famous sports car with cutting-edge tech, both under the skin and at your fingertips. 
The Mustang Mach-E is offered with two battery sizes, there are three power outputs and two or four-wheel drive layouts are available. But whichever version you choose, the Mustang Mach-E has strong credentials to be your next company car. Here are five reasons why it should be on your shopping list.
1. Impressive electric range of up to 379 miles*
One particular concern for many drivers – business users or otherwise – is whether an electric car will get them to their destination. Range anxiety is something that early adopters of electric cars have had to deal with, but the new Ford Mustang Mach-E is a next-generation electric vehicle that aims to put this concern at the back of your mind.
The first option when it comes to choosing your Mustang Mach-E is which battery to go for. Standard Range cars have a 75kWh battery (68kWh usable capacity), while the Extended Range versions have a 98kWh capacity (88kWh usable). Combine the Standard Range with four-wheel drive, and there's a WLTP-tested official range of up to 248 miles from a full charge – and the distance figures for the rest of the line-up only increase from there. The Standard Range model with rear-wheel drive adds another 25 miles of range for a maximum of up to 273 miles on the WLTP test, which means the Mustang Mach-E will be more than capable of tackling all but the longest daily drives.
If you really want to put a pin in range anxiety, then the Extended Range models offer even greater flexibility. With AWD, the Mustang Mach-E has a WLTP-tested range of up to 335 miles, while the distance champion of the line-up is the rear-wheel drive Extended Range model, which delivers up to 379 miles on the WLTP test cycle*. Of course, your range will be dependent on the kind of driving you do, how often you travel with a full complement of passengers and the weather conditions. But whichever way you look at it, the Mustang Mach-E has the range and capability to travel further than most buyers will need in a day, making it a viable choice for more business commuters than ever.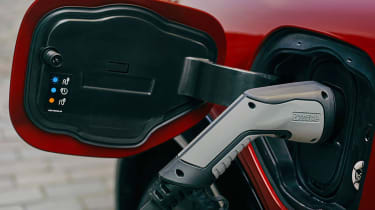 2. Recharging in as little as 38 minutes**
No matter how long the Mustang Mach-E's range, sooner or later you'll need to charge it up. But with the latest recharging technology fitted on board, the Mustang Mach-E will soon be on its way again. If you choose a Standard Range RWD model, it's possible to replenish the battery from 10-80% in as little as 38 minutes, depending on how powerful your charging source is. You can also get a 57-mile range after a swift ten-minute charge.**
The battery in the Extended Range Models is not only bigger, but also has a higher charging capacity. So while the battery is nearly 25 per cent larger, the shortest time it takes to charge is only seven minutes longer, at 45 minutes.
Partnership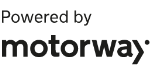 Need to sell your car?
Find your best offer from over 5,000+ dealers. It's that easy.
Once you're into the swing of EV ownership, you'll soon find that the easiest way to keep on top of range anxiety is to charge the battery up little and often, much as you'd do with a smartphone. Ford, in collaboration with British Gas, offer the Connected Wallbox charging installation, which can be set up at home or at your business. It allows you to recharge the Mustang Mach-E at your convenience, and the 7kW wallbox automatically manages charge levels. WiFi compatibility means you'll be able to monitor your Mustang Mach-E's charging status from the comfort of your living room through the FordPass App††, giving you added peace of mind.
What's more, the Mustang Mach-E comes with two charging cables as standard. There's a Type 2 cable for use with standard EV charging points, or there's the VariPower Charging Cable that can help you out if you're in need of a top-up. The VariPower cable is an adapter that allows you to recharge from a conventional three-pin plug socket. It offers a relatively slow rate of charge, but it could be useful if you find yourself out of power and some distance from a dedicated EV charging point.
3. Connectivity on the go
There's plenty of new technology under the Mustang Mach-E's skin, and there's even more in the cabin. It starts with the 10.2-inch Full Digital Cluster instruments, while the dashboard is graced by a large centrally mounted 15.5-inch portrait touchscreen. This comes with Ford's latest SYNC 4A voice-activated cabin control system, and from here you can use Natural Voice Search with the Connected Navigation system to find destinations quickly and easily.
The built-in modem allows you to monitor your car remotely using the FordPass App††. This system allows you to check your Mustang Mach-E's location, lock and unlock the car remotely and keep up to date with its charging status. What's more, FordPass can view the car's service status and schedule any software updates, and allows you to book your Mustang Mach-E in with your nearest Ford dealer, should the need arise.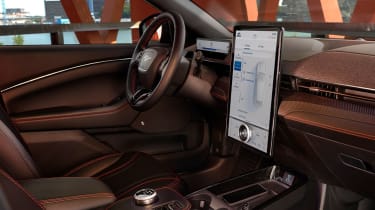 4. Tax benefits
Where the Mustang Mach-E makes sense as a company car is with its low Benefit-in-Kind (BiK) costs. Electric cars currently have the lowest BiK rates of any production car, thanks to their zero tailpipe emissions. For the 2021-22 tax year, the Mustang Mach-E benefits from a one per cent BiK tax rate†, which really slashes company car costs for taxpayers when compared with petrol or diesel models, and even offers a significant saving over plug-in hybrid cars, too. In addition, there's certainty in your tax costs, because each version of the Mustang Mach-E comes generously equipped, so you don't need to add options which could increase your BiK.
As well as low BiK costs, the Mustang Mach-E's lack of emissions mean that it benefits from free road tax (Vehicle Excise Duty), is exempt from congestion charges and is able to roam in low-emissions zones without penalty, too. With more of these areas being set up in big cities across the country, the Mustang Mach-E is future-proofed as urban transport.
5. Practicality and eye-catching design
All of these benefits are great, but the other attraction of the Mustang Mach-E is that it's practical and user-friendly transport. It's quiet and refined thanks to the near-silent running of electric drive, so every journey is relaxed, yet the power of the drive system means the car delivers performance that does justice to the famous Mustang badge. What's more, this is an EV that handles well, with a sporty drive that will be familiar to anybody who has driven a modern Ford.
The swooping five-door body has a sporty look, but clever design touches and the extra space created by the compact electric drivetrain mean that practicality isn't compromised. There's room for three across the back seat, with no transmission tunnel in the floor limiting foot space for the middle seat passenger, while the 402-litre boot is complemented by an 81-litre storage space in the nose. Even better, there's storage for the charging cables under the boot floor, so all of that boot space is ready to be used.
Discover more about the all-electric Ford Mustang Mach-E
* Based on full charge. Estimate range using Worldwide Harmonised Light Vehicle Test Procedure (WLTP) applies to RWD model with extended range battery.
** Recharge from 10-80% in 38 minutes. Extended range RWD model only. Charge power can decrease with increasing state of charge. Actual charge times and charge speeds can vary based on different factors (weather, temperature, driving behaviour).
† Benefit In Kind (BIK) rates are not applicable to retail or private car buyers. BIK rates are the monthly taxation payment applicable to company car users. BIK rates were correct at the time of printing and are based on taxation rates for 2021/22 tax year.
†† FordPass Connect, the FordPass App and Complimentary Connected Service are required for remote features. FordPass Connect will be enabled at time of vehicle delivery. You may choose to opt in/out of certain data sharing. Data coverage and service is not available everywhere. Data rates may be incurred. FordPass and Connected Car Privacy Policies apply, available on Ford.co.uk.