Austin Allegro review: British classic or car-shaped catastrophe?
To mark the Austin Allegro turning 50, we drive the oldest surviving example
Was there ever a car more reviled than the Austin Allegro? Perhaps its contemporary, the Marina, was just as unloved, but if there's one machine that you're guaranteed to see in any list of crap cars, it's the Austin Allegro. 
British Leyland's saloon celebrated its 50th birthday last month, so we reckoned that this was the perfect chance to see if the car's terrible reputation is deserved, by trying out the oldest surviving example. This is a 1750SS that topped the range when the car was launched, but it was in production for barely a year, with just 2,000 or so made.
Colin Corke owns this 1750SS, which he bought unseen for £250 in 1998. He says: "Fellow Austin enthusiast Nick Bonthrone restored the Allegro with me, after his mum saw it for sale. Back then the car was white with an Ochre Yellow interior, but most importantly it carried chassis number 11, and it was commission number two. Knowing that the production cars were numbered from 101, that made this a pre-production car, and the second 1750SS ever made."
Having been built over a three-month period and finished in December 1972, ROK 981M wasn't registered until June 1974, more than a year after the first customer cars were delivered. It then passed into the hands of an owner who did his best to keep corrosion at bay, but the car was tired and had covered 130,000 miles by the end of the nineties, by which point the original 1,748cc engine had been swapped for a 1,485cc unit. Having snapped up the Allegro, Colin and Nick embarked on a complete restoration over the next seven years, returning the car to standard. 
Colin made one change though; he much preferred the metallic Lagoon Blue that was offered when the car was launched on the Costa del Sol in May 1973. The Allegro had a tough act to follow. It picked up where the ADO16 left off; that was the 1100/1300 sold as an Austin, Morris, Riley, Wolseley, Vanden Plas and MG. This was the Allegro's first problem: it initially came only in Austin form, so there were many potential buyers who had a relationship with a Morris, MG or Wolseley dealer, who couldn't sell them an Allegro. At least a Vanden Plas 1500 would be introduced 18 months later, with about 12,000 of these sold compared with 642,000 or so Austin Allegros.
Colin says: "It wasn't a brilliant design like the ADO16, but the press didn't hate it. On paper the Allegro was quite exciting, with its front-wheel drive and fluid (Hydragas) suspension, neither of which was common at the time. But BL overlooked the importance of decent interior packaging; the back seats of the first cars were terribly cramped, with awful access for four-door models. BL then had to go through a costly redesign, with the Series 2 arriving after a couple of years, looking exactly as before, but with much roomier back seats.
"Despite the fitment of Hydragas suspension, the Allegro's ride wasn't as good as it should have been, but the biggest problem was BL's confusion about its own car. They didn't know how to market it, with its confused engine and trim levels; I think that BL pretty much gave up on the Allegro as soon as it was launched. It didn't help that when the Allegro was being developed, BL was still trying to get the Maxi right, and that had been launched in 1969. That was a car with great potential, but which needed a lot of ironing out, and to a certain extent the same was true of the Marina, launched in 1971."
Partnership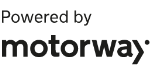 Need to sell your car?
Find your best offer from over 5,000+ dealers. It's that easy.
Another problem was that ADO16 was sold alongside the Allegro for the first year. BL expected ADO16 sales to fall off a cliff, but they held steady, providing the Allegro with an in-house rival. This was the time of the three-day working week and the Oil Crisis, while BL's factories were very unionised, staffed by a disaffected workforce that would go on strike at the drop of a hat. The result was cars developed badly and screwed together to an even lower standard. The latter is summed up by the fact that knowing there was no way of stopping Allegros leaking, BL dealers were sent a service bulletin in 1974, showing where to drill holes in the boot floor to let the water out.
Colin adds: "Brits have always loved bashing their own cars and automotive industry, but in the seventies there was massive industrial unrest in many French and Italian car factories too, and as a result they churned out some pretty shoddy products. By the time the Allegro Series 3 came out in 1979, the reviews were pretty much universally positive and it continued to sell well."
In today's world of monochromatic cars, the Allegro's vibrant colours are a breath of fresh air. The vivid blue finish of Colin's 1750SS is appealing, but the bright yellow interior really is from a bygone age. And then there's that Quartic steering wheel, which many people assume was fitted throughout Allegro production. In reality it lasted just 18 months before it was replaced by a more conventional round wheel. At one time the Quartic wheels were regularly binned by owners, but now they're highly prized, with collectors happy to pay £100 for a decent example.
Having admired the period details and colour scheme, it's time for the moment of truth: is the Allegro as awful to drive as its reputation suggests? Admittedly this example was built to a standard far higher than anything that came off the Longbridge production line, but it's all standard, with no mechanical tweaks to make things better. 
Fire up the carburetted E-Series engine and it quickly settles down to a muted, smooth tickover. Let out the clutch, and thanks to the engine's generous displacement there's lots of torque to pull away strongly, proceedings helped by the fitment of a five-speed gearbox (15 years before the Porsche 911 Turbo featured one). Having accelerated through the gears to sit at a steady 60mph, perhaps the most remarkable thing about driving the Allegro is how unremarkable it is; nothing jars or grates, apart from a slightly wide shift from second to third.
As with most cars of the era, the ride is cosseting thanks to the high-profile tyres, thick seat cushions and that Hydragas suspension. Despite a lack of assistance, the steering is light and direct, but the Quartic wheel does seem a bit gimmicky. With a kerbweight of little more than 800kg, the 97lb ft of torque available from the large-displacement engine means that once the gearbox is in fifth, you can pretty much leave it there; you only have to change down when the speed drops below 20mph.
Compared with the small family cars of today, the Allegro is endearing with its lack of touchscreens and interfering assistance systems, and it's easy to see why the club is full of such enthusiastic owners. It's also easy to see why Allegro values have been climbing sharply in recent years, with superb examples now capable of commanding around £10,000, although good cars are worth about half this. In a world where the market decides, the Allegro clearly isn't a lemon after all.
Club where the Allegro is truly cherished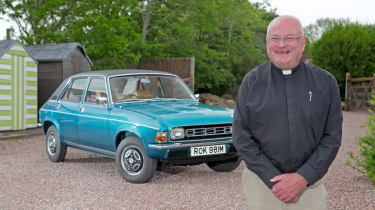 The man who owns the oldest Allegro, and two others including a rare Italian-built Innocenti Regent edition, is Rev Colin Corke, vicar of Longbridge in the West Midlands, where most Allegros were made.
Colin has boundless enthusiasm for the products of BL, and his encyclopaedic knowledge is helped by the fact that between 1981 and 1983, he was the star salesman for BL dealer Kenning in London. Colin is now chairman of the Allegro Club International, a role that he has held twice before since the group was formed in 1990.
Colin says: "The club came about almost by accident. In 1989 a letter was published in a classic-car magazine, about a fictitious group for Allegro owners. 
"The idea of such a club seemed utterly ridiculous, but there was a hardcore of Allegro fans who decided that it was the perfect time to set up such a group, and within a year the Allegro Club International was born. Within three or four years our membership peaked at almost 1,000, but now we sit at 350 or so, the drop in numbers brought about largely because nobody uses an Allegro as everyday transport any more."
When the club was formed, it was to help its hard-up members keep their Allegros on the road. Now it's more of a social group that helps its members to undertake restorations and maintenance. 
The Allegro that might have been...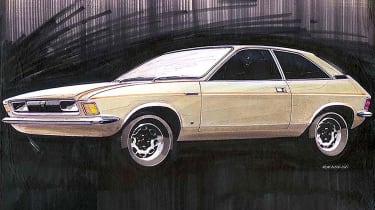 Allegro stylist Harris Mann has had a rough ride for the past 50 years, but the car that he wanted BL to produce bore little resemblance to the one unveiled on 17 May 1973. 
He sketched a sleek, wedge-shaped family car that truly cut a dash. But the low-slung nose had to be ditched so that BL's tall E-series engine could fit under the bonnet, and instead of sharp creases in the bodywork, BL managers insisted on everything being rounded off.
Harris also planned to have space-efficient seats that would ensure the Allegro was a masterpiece of packaging. But when the bosses at BL saw the designs, they were horrified; they wanted bulky seats that would look much more luxurious. 
Not only did that lead to a cramped cabin, but it also meant that the instrumentation was obscured by the steering wheel. The solution was to fit a 'Quartic' wheel, which was supposed to be revolutionary. Instead it ended up making the Austin Allegro – and British Leyland – a laughing stock. 
Frequently Asked Questions
Over 640,000 Austin Allegros were built during its near ten-year lifespan and, at the time, it regularly appeared in the list of the top ten selling cars in the UK. As of 2022, there were just over 250 Allegros still registered, meaning it's a rarity on British roads.
Do you think the Austin Allegro is one of the worst cars ever made? Let us know in the comments section...