Michelin Primacy 4 review
Impressive all-round result from Michelin which performed well and, importantly, felt good to drive.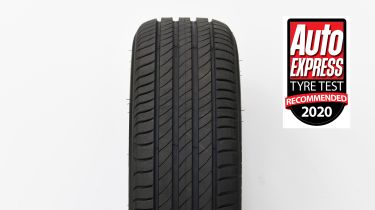 In association with

The Primacy 4 is another prime example of how our SUV tyre test last year upset the conventional order. The Primacy 4 finished at the bottom of the table in equal seventh, a little further from the front than our bottom two here. 
It was as if the French maker had turned the clock back to its focus on fuel economy at the expense of wet grip. But thankfully this car-sized version is a much more balanced design. It was the top performer overall in the wet tests, despite not winning an individual assessment. Three podiums and a fifth were enough to see off its rivals. 
There was a similar feel to the Nokian on the track, where the strong front end gripped on the throttle through the longer turns, giving the feeling of being pulled through. That strong front needed care on turn-in so as not to upset the rear, but once settled the throttle could be applied harder and earlier than with many rivals. 
As with many it didn't feel as strong on the dry circuit, with the long turns punishing the tyres, which felt good initially. It could do no better than ninth in dry braking, but was less than two metres off the winner. And that wet performance was not at the expense of fuel economy, although it was a step off the winning Goodyear.
Blackcircles.com says…
"This tyre is a firm customer favourite with more than 1,600 reviews. With a 4.8/5 overall score, it's a high-scoring tyre. Positive reviews praise the Michelin's grip, comfort and handling."
Figures
| | | |
| --- | --- | --- |
| Michelin Primacy 4 |   |   |
| Overall | 99.9% | 2nd |
| Price  | £73 |   |
| Wet handling  | 99.80% | 3rd |
| Wet braking  | 99.20% | 2nd |
| Straight aquaplaning | 99.30% | 2nd |
| Curved aquaplaning | 94.70% | 5th |
| Dry handling | 99.10% | =5th |
| Dry braking  | 97.90% | 9th |
| Rolling resistance  | 89.90% | 4th |
| Cabin noise  | 98.70% | 8th |