Ferrari 612 Coupe review (2004-2010)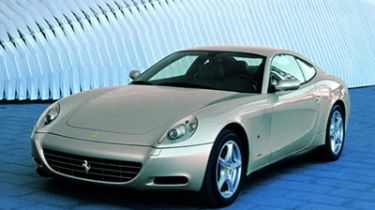 Ferrari has a habit of being controversial with its new model designs, but when you're replacing a car as stylish as the 456 GT it is always going to be difficult. The 612 GT Scaglietti has thus faced some fairly harsh criticism in regards to its looks, but if previous Ferraris are anything to go by then it'll almost certainly be looked on more favourably as it ages. Styling aside the 612 is demonstrably better than the car it has replaced. A proper four-seat coupe this truly is a GT car in the purest sense of the word. With a thumping 5.7-litre V12 up front offering a thumping 540bhp the 612 is certainly not short of power, and although it's a big car the use of aluminium throughout means it's not as heavy as you might expect. That means the performance is shattering, it'll reach 199mph if you've got a private track or a clear autobahn, and will sprint to 60mph in just 4.2 seconds. All that power is delivered to the rear wheels through either a six-speed manual or a semi-automatic with paddle-shift levers. The former is the preferable choice, the fussy paddle system not as smooth as a conventional automatic, even when the computer takes full control.
Otherwise the 612 is an impressive machine. It seemingly shrinks around you on sinuous roads, becoming more sports car than GT. The body control is excellent, the ride firm but not uncompromising, and the steering light and direct. All this allows you to use the 612's prodigious thrust more often than you'd expect, it a convincing and very enjoyable car to drive hard. Add in that you can take three friends and luggage along in the sumptuously appointed interior and the 612's appeal increases a desirable choice for the well-healed Ferrari driver wanting a bit more practicality than its two-seater relatives. Those seats don't come cheap though, the 612 Scaglietti being the most expensive Ferrari in the current range, by a significant margin.
Engines, performance and drive
0
MPG, CO2 and Running Costs
0
Interior, design and technology
0
Practicality, comfort and boot space
0