One-off Ferrari F12 TRS revealed
Unique and one-off Ferrari F12 TRS officially unveiled, fitted with 730bhp V12 engine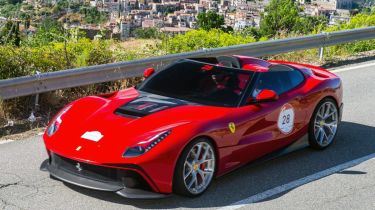 This is the Ferrari F12 TRS. It's a one-off prancing horse commissioned by an anonymous customer, unveiled at the Ferrari Cavalcade event in Sicily. Based on the £239,000 F12 Berlinetta, bespoke styling features inside and out decorate the now open-top two-seater.
Designed and created by Flavio Manzoni and the Ferrari Style Centre, the look of the F12 TRS has been inspired by the 1957 250 Testa Rossa. Although instantly recognisable as an F12, the most obvious alteration is absence of a roof. Designers have also fitted a darkened wrap-around windscreen.
• Ferrari 412 pick-up is a world first
The aerobridge, introduced on the F12 as a sophisticated aero pack, has been extended from the bonnet down the flanks of the car where it merges into the rear haunches. Round the back there's a more aggressive T-shaped graphic from the standard model, with two prominent fuselage fairings nestling behind the seats.
We have no shots of the interior but the Maranello-based marque says it adopts a back-to-basics approach. The glovebox, central air vents, mats, audio system and window controls have all been removed, along with certain controls for the air conditioning. What remains unchanged is the generous amounts of carbon fibre, leather and Alcantara which trim the cabin.
• Eric Clapton's Ferrari SP12 EC
Mechanically, the F12 TRS uses the same 730bhp 6.3-litre V12 engine as the showroom model but unique to this one-off Ferrari is a transparent engine cover. On display are the signature red cylinder heads, a concept inspired by the front-engined Ferrari sports cars of the 1950s.
The F12 TRS will remain a one-off and its buyer and cost are still unknown. But a seven-figure price tag would come as little surprise.