Ford's ride-hailing bus service Chariot closes
Chariot closes less than three years after being purchased by Ford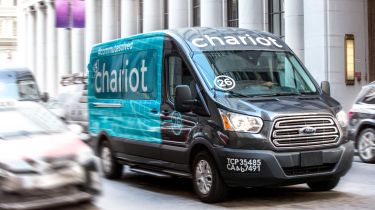 Ford has announced it is winding down its ride-hailing bus company, Chariot, less than three years after it purchased the startup for a reported $65 million (£51 million).
• London T-charge comes into force
Chariot ran a fleet of 14-seater buses in London from early 2018, across six routes, predominently in the south London boroughs of Lambeth, Greenwich, and Wandsworth. The company will cease to operate in London on 25 January 2019.
Ford bought San Francisco startup Chariot for a rumoured $65 million in 2016, with the company running in its hometown and a number of other US cities, including New York.
By logging onto the Chariot smartphone app, users were able to request a pickup, which generally took place at a pre-existing bus stop. Although the journeys taken by Chariot's minibuses followed predetermined routes, their drivers would be able to divert in order to avoid traffic delays.
The company's US model also allowed customers to buy monthly passes using "pre-tax dollars", offering savings in the process.
Announcing the company's demise, Chariot CEO Dan Grossman, said: "In today's mobility landscape, the wants and needs of customers and cities are changing rapidly." Grossman thanked Chariot's customers and partners for their support.
Read more about the new alliance between Ford and VW here...