New Ford Focus RS Mountune boasts 513bhp
British tuner Mountune has launched a pair of performance packages for the Mk3 Ford Focus RS, with the more potent M520 boasting 513bhp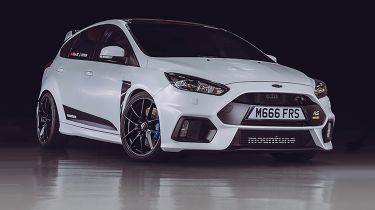 Mountune has just launched a pair of tuning kits for the Mk3 Ford Focus RS, with the most potent version offering a maximum power output of 513bhp. Called m450 and m520, the tuning kits are priced at £2,950 and £5,975 respectively, and feature larger turbochargers, reworked exhaust systems and upgraded ECUs.
The m450 package swaps the Focus RS's standard turbocharger with a larger BorgWarner unit, specially configured by Mountune. Other additions include a high-flow catalytic convertor, stronger stainless steel hose clamps, and new silicone joiners. The package boosts the RS's output to 444bhp and 580Nm of torque; up from 345bhp and 470Nm.
Mountune's m520 package includes all of the upgrades from the m450, with the addition of an even larger turbo, an uprated fuel pump, a revised set of camshafts, and a reworked valve train. When fitted, the Focus RS's total output stands at a claimed 513bhp, with 700Nm of torque.
Mountune is very keen to stress that, to maintain the safety and reliability of the Focus RS's 2.3-litre four-cylinder engine, buyers must replace the engine's standard connecting rods and pistons with forged replacements. The tuning firm also advises buyers to fit an uprated intercooler, a freer-flowing intake and a three-inch exhaust system.
For those who don't want to carry out the work themselves, both kits can be purchased with a supplementary fitting cost. The fully-fitted m450 package is priced at £3,995, while the equivalent m520 system costs £8,195. In both cases, the upgrades are installed by specialists at Mountune's headquarters in Hutton, Essex.
Due to the complexity of the upgrades, and the amount of additional performance they produce, both the m450 and m520 tuning packages will void the Focus RS's standard Ford warranty.
Now have a look at Mountune's 222bhp Ford Fiesta ST. Let us know your thoughts in the comments section below...