New Ford Grand C-MAX 2015 review
Updated Ford Grand C-MAX gets a boost in interior quality and extra equipment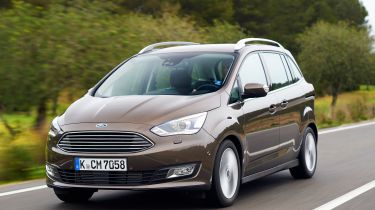 The Grand C-MAX remains one of the sharpest seven-seat MPVs to drive. Plus, the range-topping diesel is strong and economical, the steering is accurate and there's plenty of grip. It's a shame Ford hasn't worked on the slightly awkward styling, but there's no denying it's a better all-round package – especially with the extensive kit list and improved residual values. In fact, the new, bigger Galaxy will need to be good to justify the extra cash.
The Ford C-MAX has long been the go-to MPV for other manufacturer looking to benchmark their mid-size people movers in terms of driving dynamics. However, with BMW arriving into the segment with the 2 Series Active Tourer, can a mid-life refresh keep the C-MAX feeling fresh and sharp to drive?
Changes to the exterior are mild, with new front and rear lights, a refreshed Mondeo-style grille and updated foglights. There's a sharper crease down the side and some new alloy wheel designs, but the body remains largely the same as before.
Inside there's a marked step up in quality, and all cars get a similar dash layout to the one you'll find on the new Focus. It's much more intuitive to use, and higher-spec cars add Ford's Sync2 touchscreen system – with nav available at extra cost. Ford reckons 54 per cent of UK buyers will opt for the entry-level Zetec, with the remainder split between mid-spec Titanium (34 per cent) and range-topping Titanium X (12 per cent).
More reviews
In-depth reviews
Road tests
All trims get extra kit as standard, with each model now boasting 16-inch alloy wheels, hill start assist, tyre pressure monitoring and Ford's clever MyKey technology. That's all in addition to the DAB radio, electric front windows and a heated windscreen carried over from the previous-generation Zetec.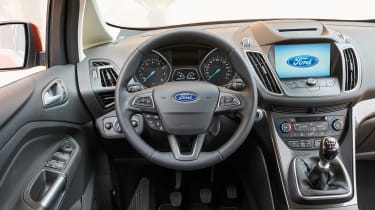 Our Grand C-MAX Titanium had automatic lights and wipers, dual-zone climate control and bigger alloy wheels. Keyless start, cruise control and the aforementioned Sync2 system are also included, while flagship Titanium X cars add flashes of leather, a panoramic roof and adaptive xenon headlamps.
While Ford expects the 118bhp 1.5-litre TDCi to be the big seller in the UK, our car was fitted with the larger 2.0-litre 148bhp version – complete with six-speed manual gearbox. There's no denying the extra power offers a welcome boost in torque (400Nm versus 270Nm), but it'll set you back an extra £1,500 and it's not available on the basic Zetec trim. Power delivery is smooth, refinement is excellent and providing you keep revs in the power band, there's enough grunt for safe overtaking.
In the corners, the Grand C-MAX continues to handle with more poise than a seven-seat MPV ought to, and the five-seater version is better still. Understandably there's more roll than in the smaller five-seat C-MAX, but grip is impressive and the steering is sharp. The suspension offers a great balance between comfort and handling, and tyre roar and wind noise is well supressed on the motorway.
Not only is it good to drive, it should also prove pretty cheap to run. Ford says residuals have improved by as much as £650, and with CO2 emissions of 118g/km this 148bhp TDCi is a significant 17 per cent cleaner than the the outgoing model. As a result it costs just £30 a year to tax. Ford claims it'll do more than 60mpg in mixed motoring, but that's a little optimistic. Expect that to drop into the mid-to-late forties with seven people and their luggage on board.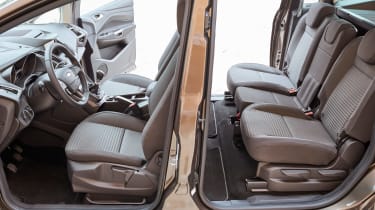 Speaking of which, the space inside goes unchanged from the old C-MAX. That means the two rearmost seats are reserved for kids (or extremely small, flexible adults), while boot space with both rear rows in place is limited to a measly 65 litres. Fold all five rear seats flat though, and you'll open up a cavernous 1,715 litres – enough to rival even the biggest estate cars.
Handily, Ford engineers have added a load of useful features to make the most of that space – claiming a total of 20 storage solutions dotted around the cabin. Owners not needing the full seven seats can fold the central seat into the base of the outer seat to reveal a narrow opening into the rear. The two middle seats then shift inwards for improved shoulder and head space, and can slide forwards and backwards to create more or less legroom.
Small changes have renewed the Grand C-MAX's appeal, though rivals still offer more outright space. We'd recommend trying the smaller (and cheaper) 1.5 TDCi model before stumping up for the more powerful 2.0-litre – though if you regularly carry seven people, it should be worth the extra cash.