Ford GT production extended
Around 350 additional Ford GTs will be produced at the factory in Canada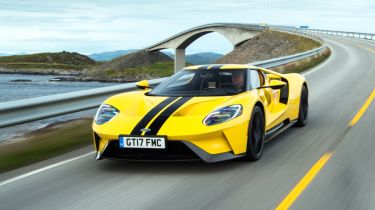 Ford has extended the production run of the GT supercar due to 'overwhelming' demand. Two further years of production have been scheduled, which means an additional 350 GTs will be up for grabs.
Interested buyers have one month from 8 November to submit their applications at FordGT.com, but only in certain markets including the UK, Germany and America. Ford says demand outstrips supply by six-to-one and of the 1,350 GTs that will now be produced around 13 per cent are bound for Europe.
Vehicle specialists Multimatic builds the Ford GT by hand at its factory in Markham, Canada. Ford has promised to deliver 250 GTs per year to customers and initially limited produced to 1,000 vehicles.
Power comes from a mid-mounted 3.5-litre twin-turbo V6 engine developing 647bhp; Ford says the GT is capable of 0-62mph in 2.8 seconds and a top speed of 216mph.
"The response to our Ford GT has been unprecedented, with demand outstripping supply more than six-to-one," said Hermann Salenbauch, director, Ford Performance. "By extending the Ford GT production run for a limited period, we're able to maintain the exclusivity of the ultra-desirable supercar while offering the ownership experience to a greater number of customers in addition to the 80 Ford GT owners in Europe who've taken delivery of their bespoke car to-date."
See where the Ford GT fits in our list of the world's fastest road cars 2018...