Honda S2000 to be reborn
Honda is set to revive the S2000 and bring us an all-new small sports roadster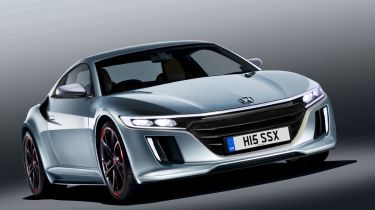 Honda is set for a massive transformation from sensible to sporty, and leading the revolution are three new sports cars, which include a spiritual successor to the S2000 and an all-new NSX.
Like the original Honda S2000, this mid-engined sports car – revealed in our exclusive image - is set to be a coupe rather than a convertible and it will sit in the middle of the three cars.
The Honda S660 with its three-cylinder turbo engine will sit below it, while the the hybrid Honda NSX will be the manufacturer's flagship performance model.
A Honda insider told us about a secret in-house meeting at Honda's Tochigi R&D centre in Japan to discuss the potential for this new mid-sized sports car, which would be part of the world's first-ever mid-engined trio of sports cars from one manufacturer. From what we've heard, there's a strong chance this new Honda S2000 will get the green light.
The Honda S2000 is similar in looks to the S660 and NSX, with all three cars getting sharp lines, a bold grille and narrow headlights giving them a character unlike any of Honda's current models.
Hybrid tech to combine performance and economy
Under the skin of the new Honda S2000, we've been told to expect a revised version of the 2.0-litre 350bhp turbo engine, which will power the next generation Honda Civic Type R.
Some hybrid tech - developed in conjunction with the McLaren Formula 1 team - should also feature and it's set to allow for 0-62mph in around five seconds, but with an economy of around 40mpg.
Honda is looking at adding a simplified version of the all-wheel-drive petrol-electric system used in the NSX.
The mid-size Honda S2000 replacement will be the last of Honda's three new sports cars to arrive and it's expected to go on sale in 2017 for around £35,000. The new Honda NSX is expected to arrive by the first part of 2015, making it the first of the new models to go into production.
The new Honda NSX will be powered by a V6 engine and three electric motors, which develop more than 400bhp. The front wheels get one motor each for the ultimate in torque vectoring. Honda is aiming for a price of around £100,000.
The Honda S660, meanwhile, is first expected to arrive in Japan towards the end of 2015. It'll be powered by a 600cc, 64bhp engine, although a more powerful 1.0-litre turbocharged three-cylinder is rumoured to be on the way for Europe.