Honda Civic Hybrid: plug-in version of the mk10 Civic on the cards
Honda bosses think diesel is dying, with electrified powertrains under consideration for all-new Civic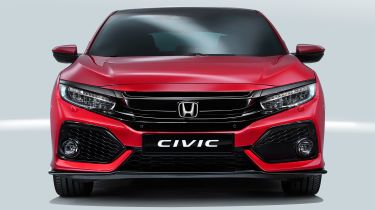 Honda is already considering fitting the all-new Civic with a hybrid powertrain according to company bosses, Auto Express can reveal.
Despite launching with only two petrol engines, chief operating officer Katsushi Inoue has admitted that the brand is considering adding a hybrid model, to compete with rivals like the Toyota Prius and Hyundai Ioniq.
• New 2017 Honda Civic revealed
"We are thinking about it," Inoue-san told us. "After the [Volkswagen] emissions scandal, we have to think about it. We are big on hybrid in Japan and the US. We have that technology and we are thinking about it." 
In a separate discussion with Civic development leader Mitsuru Kariya, it became clear how important the car is for the brand – and how things like electrification could open it up to previously untapped customers.
"The Civic is our biggest selling car globally," Kariya-san told Auto Express. "We sell 600,000 units per year – so if the Civic fails, Honda will fail.
"For the new car, we went around the whole world to ask what customers want for the Civic. Many were disappointed," he said. "We panicked."
• Best hybrid cars on sale right now
It was these discussions that prompted the complete overhaul for the 10th-generation Civic hatchback, including the new platform, revised interior and upgraded powertrains. 
"We had many restrictions with the existing platforms and powertrains," Kariya-san continued. "The new car needed higher investment." 
What is clear, is that the new Civic has been designed from the outset with electrified powertrains in mind. The new platform can utilise petrol, diesel, hybrid and even hydrogen systems – with mild-hybrid and plug-in hybrid versions possible by the end of the decade. 
"The new platform is very flexible and has incorporated the possibility for future hybrid versions," Kariya-san said. "The evolutionary steps from a diesel engine are now more or less limited, so we are shifting resources from diesel to electrification. A hydrogen fuel cell is not in our plan for the moment," he concluded.
Would you buy a hybrid Honda Civic? Let us know below...