Honda plotting baby NSX sports car
Honda close to green-lighting 400bhp baby NSX hybrid as a spiritual successor to S2000 roadster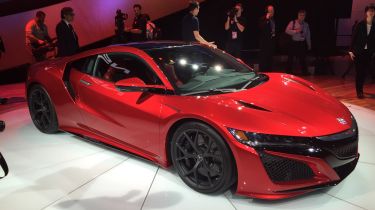 The new Honda Civic Type R and NSX are just the beginning of Honda's revitalized performance car range. Auto Express has learned that an all-new mid-engined sports cars to go go up against the Porsche Cayman and Alfa 4C is in the pipeline.
The baby NSX coupe will bear similar proportions to Honda's new flagship supercar and will also incorporate some of its technology such as the hybrid four-wheel drive system.
The mid-engined coupe will slot in between the NSX and the little turbocharged S660 mini-roadster already on sale in Japan, that's expected to spawn a more powerful S1000 for European markets. A Honda insider told us the Japanese car-maker has not only been debating the viability of a third mid-engined model, but that it's already deep into development.
• Full details on upcoming Honda NSX supercar
Honda's plan is to assemble it alongside the NSX in Ohio, North America. Unlike the NSX, however, the Cayman rival is expected to wear the Honda badge in North America as opposed to luxury sub-brand Acura.
Our sources claim the newcomer will be powered by a mid-mounted 2.0-litre turbocharged four-cylinder VTEC engine lifted from the Type R. Internal tinkering will see power rise from 306bhp to around 330bhp. Like the NSX, three electric motors will supplement power, with two front axle-mounted motors driving the front wheels through a nine-speed dual-clutch automatic transmission. Total output is said to be around 400bhp.
It will also be based around a bespoke aluminum space frame wrapped in aluminum with carbon fibre reinforced plastic (CFRP) body panels to keep weight below 1,400kg. Insiders claim it will arrive with class-leading performance and handling.
Although development is underway, its arrival is not expected until 2018 with a target price of £60,000. Honda's baby NSX should appear around the same time as Toyota's born-again Supra, which is being co-developed with BMW's Z4 replacement.
Now read our first drive review of the new Honda Civic Type R.