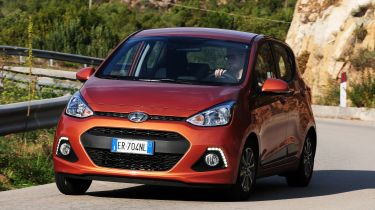 The Hyundai i10 is the car that made brand famous. It remains the company's best seller, nearly four years after the Scrappage Scheme that sent it shooting up the sales charts ended. So there's a lot riding on this new model.
Its basic shape and proportions are much the same, but the new i10 is slightly bigger and much prettier than before. It might lack the funk of the VW up!, Skoda Citigo and Seat Mii trio, but it's a posher, more grown-up look.
That pretty much sums up the whole car – it's gone upmarket in look and feel, inside and out.
There's a serious sense of style to the dash that overcomes the use of hard plastics. The important bits you touch (steering wheel, gearknob, door pull, plus the buttons and switches) all feel nice and work with a Germanic precision. The view out is good, too.
Space will always be limited in a car that's only 3,665mm long, but a six-foot passenger can squeeze in behind a six-foot driver. Anyone smaller, especially kids, will be fine, making this an ideal runaround for the family – possibly the perfect second car. Even the boot (at 252 litres it's one litre bigger than the up!'s) is surprisingly spacious.
Our car, a left-hand drive model but tested here in the UK, had the 65bhp three-cylinder 1.0-litre engine. Ignore the 0-62mph time of 14.9 seconds; it feels much brisker than that. It's also incredibly refined. You can just about detect a three-cylinder growl, but this is a quiet car.
It's also comfortable and fun. The ride has a firm edge to it, but not in a way that will have you shifting in your seat or wincing over bumps. The sharp steering will make you smile, too. This engine promises strong economy, but we're mildly disappointed that there's no standard stop-start, which would drop emissions below 100g/km.