Fuel cell Hyundai ix35 arrives in the UK

Zero emissions ix35 to be part of London Hydrogen Network Expansion (LNHE) project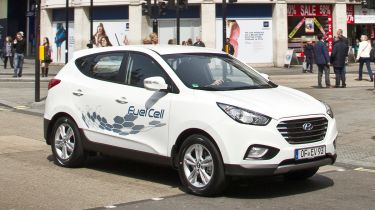 Five Hyundai ix35 fuel cell vehicles will soon hit London's roads as part of the London Hydrogen Network Expansion (LNHE) project. The LNHE is aiming to establish the first hydrogen transport infrastructure in the southeast of England, and is being run by a consortium of companies that specialise in different aspects of using hydrogen as a fuel.
Hyundai claims that the ix35 is the world's first production fuel-cell car. It has committed to build 1,000 examples of the model between now and 2015, with each running down the regular ix35 production line in Ulsan, Korea.
Most of those 1,000 cars will be sent to Europe, as the European Commission has established a number of schemes, such as the Fuel Cells and Hydrogen Joint Undertaking (FCH JU), to promote the use of hydrogen as a zero carbon fuel.
According to a Hyundai statement, the ix35 fuel cell SUV has been designed to offer "the same practicality, safety levels and driving experience as an ix35 driven by an internal combustion engine."
That means the ix35 will sprint from 0-62mph in 12.5 seconds, has a top speed of 100mph and has a range of 369 miles from each tank of hydrogen. For comparison, the ix35 1.7-litre diesel completes 0-62mph in 12.4 seconds and will hit 108mph.
The fuel cell Hyundai take around three minutes to refuel. At present, there are two hydrogen filling stations in London – one open to the public – and a third is planned as part of the LNHE.
Three more stations will be built by 2015, by which time, the LNHE project hopes to have around 50 hydrogen-powered test vehicles on the road, including buses and taxis.
Tony Whitehorn, President and CEO of Hyundai Motor UK, said: "Hydrogen delivers considerable environmental benefits and we are looking forward to working closely with the other partners to drive forward its widespread introduction."