Safest large SUV: Hyundai Nexo
New SUV earns five stars in first-ever Euro NCAP test for a hydrogen fuel cell vehicle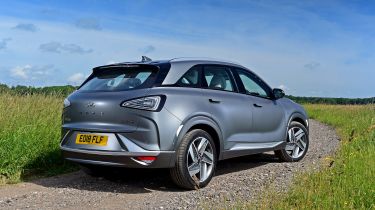 One of the most significant cars Euro NCAP tested in 2018 was the Hyundai Nexo. It was the first hydrogen fuel cell vehicle to be tested by the organisation, and its Best Large Off-Road award demonstrates that cars using fuel cell technology are just as safe as conventional petrol or diesel models in the event of an accident.
The Nexo is due to go on sale in 2019, and it will come with a five-star Euro NCAP rating to go with its hydrogen-powered electric drive system. Percentage scores were 94% (adult protection), 87% (child protection) and 67% (pedestrian protection), while the Nexo has an 80% score for its safety assist systems.
Assistance comes in the forms of speed limit detection, lane keeping and autonomous emergency braking, while the Nexo's body remained intact under all collision tests, with no damage to the hydrogen system detected.
While refuelling is still an issue with hydrogen cars due to the lack of fuel stations that are able to fill them, the Nexo's tests at least prove that manufacturers are taking safety seriously, and it shouldn't be any more of a concern than it is for a conventional SUV.
Safest large SUV - previous winners