Lego Hyundai Veloster Turbo
Hyundai has created a Need For Speed-style race using the new Veloster Turbo... and some Lego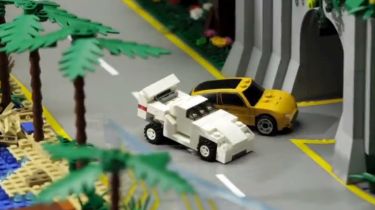 Hyundai has launched a viral campaign for its new Veloster Turbo, which mimics a Need For Speed-style videogame sprint race – using Lego.
The video sees the flagship Hyundai Veloster up against a highly modified drag car with a huge rear spoiler and bulbous bodykit. The dual through Lego-lined streets includes jumps, bumps and crashes as they battle to the finish line.
But which will claim the victory? Check out the video to see the result (as if you had any doubt!)
Hyundai launched the standard Veloster earlier this year, with the Turbo joining the lineup a few months later. It has a turbocharged 1.6-litre engine with 184bhp, making it good for 0-62mph in 8.4 seconds and a claimed fuel economy of just over 40mpg.
For more on the on the Volkswagen Scirocco rival, check out our review of the Hyundai Veloster Turbo.