New Infiniti QX Inspiration concept revealed ahead of Detroit debut
The new all-electric Infiniti QX Inspiration concept previews a future production model that will rival the Jaguar I-Pace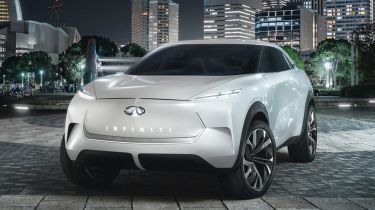 This is the Infiniti QX Inspiration concept. The fully electric SUV will take centre stage at the Detroit Motor Show later this month and previews the Japanese firm's upcoming Jaguar I-Pace rival.
Infiniti also says the concept car showcases its plans for more 'high-performance electrified vehicles' and a 'new era for Infiniti design'. The Japanese company is pushing its electric agenda, and aims to offer either hybrid or all-electric powertrains for its entire line-up by 2021. Details on the underpinnings of this concept are still vague, but we do know that it will debut Infiniti's new dedicated electric platform.
One of the advantages of the platform, Infiniti claims, is the amount of space it frees up in the cabin for passengers. Although there are no images, the Japanese firm says the cabin has been 'hand crafted' and has been inspired by the Japanese hospitality principle of 'omotenashi' to create a welcoming environment.
On the outside the showcar sticks with design cues first seen on another of Infiniti's concepts, the Q Inspiration saloon; slender LED headlamps, a completely blanked off grille and a wraparound effect glasshouse are its standout features.
Infiniti Executive Design Director, Karim Habib, said: "The concept car we will show in Detroit is the beginning of a new era for Infiniti, and an illustration of where we want to go with the brand. Electrification and other new technologies have given us the opportunity to evolve our design philosophy."
While there is no official arrival date for the production car, it's likely that it will hit showrooms towards the end of 2020. However, it's unknown if the model would even be sold in the UK due to the level of competition and Infiniti's struggle to get a foothold in the UK market.
What are your thoughts on Infiniti's new all-electric concept? Let us know in the comments below…