"Jaguar's electric I-Pace can transform the brand"
Using the impressive Jaguar I-Pace as a foundation, the British marque can become an industry leader in EVs, thinks Jonathan Burn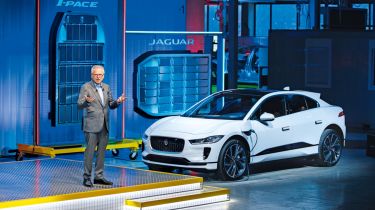 Jaguar's new I-Pace has been four-and-a-half years in the making and, as you'll read in our review (link further down the page), it's certainly been worth waiting for.
The electric SUV is the birthchild of Dr. Wolfgang Ziebart, JLR's technical design director. After 23 years at BMW, and playing a role in the creation of the German firm's i Division, he knows a thing or two about EVs – and with the I-Pace it shows.
But even Ziebart didn't spot the gap in the market for luxury electric vehicles. He wasn't alone – bosses at Mercedes, Audi, Ford, Toyota and Honda (among others) all missed buyers' appetite for high-end EVs.
Tesla got there first and showed the established powers within the automotive industry the massive opportunity they had missed. Without Tesla, would cars such as the I-Pace exist? Perhaps not. But sometimes it takes an outsider to shake up an industry and the automotive sector is better off because of Elon Musk and Tesla.
But as well as being a game changer for electric cars, the I-Pace represents a much greater leap forward for Jaguar as a brand. Ziebart told me it is the most important Jaguar since the E-Type. I reckon that's perhaps underplaying it a bit. The I-Pace catapults Jaguar into the 21st century and helps a famous British brand shake off its somewhat stuffy and ageing image.
In the eyes of the younger generation, Jaguar still lags behind companies such as Audi, Mercedes and BMW when it comes to technology and brand image. I know, because I felt that way, too. Now I'm absolutely convinced the I-Pace will change that.
Cars like the I-Pace are the future of this industry and the future of Jaguar. This great British company now has a massive chance to transform itself into an industry leader. Let's hope Jaguar can make it count.
Do you think Jaguar has the capability to become an industry leader in EVs? Let us know in the comments below...