Jaguar Land Rover shuts two factories due to semiconductor shortage
JLR's Castle Bromwich and Halewood factories will temporarily close from 26 April as a global shortage of semiconductors impacts production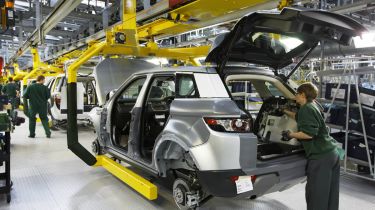 Jaguar Land Rover (JLR) is temporarily closing two of its UK plants due to a global shortage of semiconductors. The manufacturer's factories in Castle Bromwich and Halewood will begin "operating a limited period of non-production" from 26 April, while operations will continue at the JLR Solihull plant.
In a statement, JLR said: "Like other automotive manufacturers, we are currently experiencing some Covid-19 supply chain disruption, including the global availability of semiconductors, which is having an impact on our production schedules and our ability to meet global demand for some of our vehicles."
The brand added that it had "adjusted production schedules for certain vehicles" and would work "closely with affected suppliers to resolve the issues and minimise the impact on customer orders wherever possible".
JLR's Halewood factory employs around 4,000 people and makes the Land Rover Discovery Sport and Range Rover Evoque. Castle Bromwich, meanwhile, has approximately 1,900 employees and builds the Jaguar F-Type, XE, XF and XF Sportbrake.
The global semiconductor shortage is an ongoing issue caused by the Covid-19 pandemic that's affecting multiple industries, including the automotive sector. The chips that are in short supply are used in the manufacturing of cars, computers, smartphones and other electronics.
Peugeot announced recently that the outgoing 308 family hatchback is now only available with analogue speedometers rather than digital ones due to the shortage, while Renault warned that the problem is getting worse. In addition, Volkswagen, General Motors and Mercedes' parent company Daimler have all faced temporary factory closures similar to those of JLR as a result of the shortage.
It remains to be seen how much more serious the problem becomes and how badly the UK car industry - which is already fighting to recover from the effects of Covid-19 and dealing with post-Brexit customs issues - is affected.
Check out how coronavirus is affecting the automotive industry here...