All-electric vehicles will come from Jaguar Land Rover
Manufacturer reveals it could eventually go zero-emission, while hybrid could become most popular power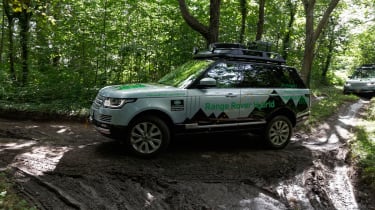 Jaguar Land Rover will produce a zero-emission electric vehicle within a decade, according to bosses at the company.
Speaking at the Geneva Motor Show, group engineering director Dr Wolfgang Ziebart explained that alternative drive, hybrids and electric cars would be a major factor for makers of premium models.
"This is an area that is especially important for manufacturers that do premium cars as in this class you can afford more sophisticated solutions that cost more money, but are not affordable in the mass market," Dr Ziebart told us.
"And I personally think that the hybrid drive will become the dominant drive train in the upper vehicle classes," he explained. "I cannot say too much but we are observing the market (electric vehicles) carefully. There is a market that is much more relevant to us as the second or third vehicle in the family, and it makes sense to have an alternative drivetrain or electric car to compliment the first car in the family."
But rather than a smaller second and third car, Dr Ziebart hinted that it could be more in the style of the Tesla Model X and that it could be more relevant for the US and in Asia and China.
However, while Dr Ziebart wouldn't give any indication on when we will see an EV in the manufacturer's range, Dr Wolfgang Epple, Director Research and Technology, told us that it could be within the next ten years due to more stringent emission regulations.
"We will have to have a zero-emission car in the range in order to meet regulations," Dr Epple said. "We need this by 2025, possibly even sooner for certain markets."