Jaguar XFR-S vs Jaguar XFR video track battle
We race the Jaguar XFR-S against the standard XFR to see if it's worth the extra money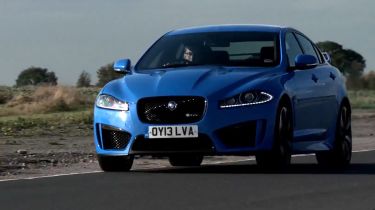 Let's say you want a Jaguar XFR, but you'd like to turn its performance all the way up to eleven. Well, that's why you can get a Jaguar XFR-S - but is it worth the extra cash? To find out, we compared it on track with the standard version.
The standard Jaguar XFR has a 5 litre supercharged engine with 503bhp and 625Nm of torque. It can do 0-62mph in 4.9 seconds before reaching an electronically limited top speed of 155mph. It costs £65,380.
The XFR-S costs an extra £14,615, but for that you get an extra 39bhp and 55Nm torque. 0-62 falls to 4.6 seconds and you can reach a top speed of 186mph. It also gets a louder exhaust, tweaked gearbox, stiffer chassis and firmer suspension.
But does all this make the standard XFR feel lacking when you get out on track?
Both cars have a lovely V8 noise, and the gearbox has a relatively smooth shift. The standard car is relatively soft for a performance car but it changes direction well - but the XFR-S is definitely stiffer and more composed.
There are a lot of physical changes to this car, you can really feel it - it's so much tauter than the standard car. When it transitions into oversteer the diff is so much better - it's smooth rather than spinning the unloaded wheel. There's more feel in the steering too.
The first thing you notice in the XFR-S is that you can feel the extra power, but it's not a night-and-day difference.
When it oversteers it's really smooth and it's a much tauter car than the standard XFR. It's still quite a twitchy muscle car, don't get me wrong, but it has a different feel to the standard car. Everything's honed, tight and sharper - it makes the standard XFR feel like a stocky executive saloon.
The Jaguar XFR-S was 1.6 seconds quicker around our track than the standard XFR - but is it worth the extra money?
Well, if you rate driving pleasure above all else, then the answer is yes. With its completely re-worked suspension and unique diff, the XFR-S feels like a completely different car.
• See the next track battle: VW Golf GTI vs Performance Pack