Volkswagen Golf GTI vs Performance Pack: video track battle
We put a standard VW Golf GTI up against the Performance Pack version on track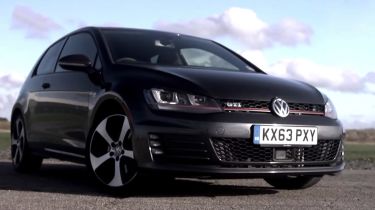 Let's say you want a Volkswagen Golf GTI, but you'd like to turn its performance all the way up to eleven. Well, that's why you can specify a Performance Pack - but is it worth the extra cash? To find out, we compared it on track with the standard version.
• VW Golf GTI Performance Pack review
The normal Golf GTI has a 2.0-litre engine with 220bhp and 360Nm of torque. It can do 0-62mph in 6.3 seconds and tops out at a top speed of 153mph. It costs £25,845 for a three-door hatch.
The Performance Pack version costs an extra £995 but for this you get the 10bhp upgrade to the engine, and although the torque remains the same, the 0-62mph falls to 6.2 seconds while the top speed is up to 155mph. More importantly, the car gets bigger brakes and a clever electronically-controlled torque vectoring differential.
But does all this make the standard GTI feel somewhat lacking on track? Well, in the end the Golf GTI Performance Pack was 1.6 seconds faster than the standard car.
Is it worth the extra money? Well if you drive the GTI hard, then it's definitely worth the extra money - mainly because you can feel that diff helping to improve traction on the exit of tight corners.
• See the next track battle: Jaguar XFR vs XFR-S