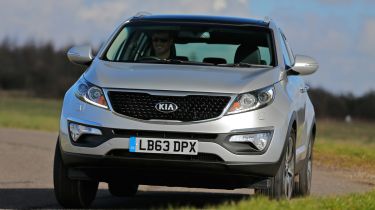 New price: £17,495 - £29,495Average percentage retained: 59.8 per cent
The Kia Sportage is an attractive SUV that rivals the Nissan Qashqai and Skoda Yeti, offering an upmarket interior, plenty of equipment and great practicality. Like many of the SUVs on this list of the slowest depreciating cars, it's available in front-wheel drive or four-wheel drive, depending on where it's most likely to be used.
The Kia makes its way on to this list in special edition form, however - it's the limited-edition nature of the special edition models that boosts its used values. The Sportage Black and White editions get a 7-speaker sound system, a touchscreen sat-nav, reversing cameras and metallic paint as standard.