Land Rover Discovery Vision Concept car teased
New Land Rover Discovery concept teased ahead of its debut at the New York show, previews family of Discovery models
It's official, Land Rover will throw the covers off a Discovery Vision Concept car at the New York Motor Show on April 16. Designed to "showcase Land Rover's design vision for a family of Discovery vehicles," it previews both a Freelander replacement – likely to be badged Discovery Sport and revealed at the Paris show this September – and the full-size Discovery 5. Only one picture has been officially released – showing the concept's dashboard display with a line drawing of the car and the phrase "the new age of Discovery." However, a preview video has also emerged, and by screen-grabbing certain frames more details become clear.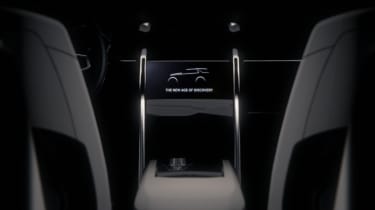 On the outside the trademark kinked-roof makes a return, while the inverted C-pillar will surely become a design signature on At the rear 'Discovery' lettering can just be made out, along with horizontal taillamps.
New Land Rover Discovery: flexible seating system
Other features visible in the film include seven individual seats that can be configured in a 2-3-2 formation, or by sliding the central seat backwards an unusual 2-2-1-2 layout. A close up of the centre console revealed a pair of exquisitely finished rotary dials – one for the gearbox and another for the infotainment system.
Land Rover Design Director Gerry McGovern said: "We have created the Vision Concept to share the essence of Land Rover's new age of Discovery and to debut a new, compelling, relevant design direction that connects on an emotional level with customers of today and tomorrow." According to Land Rover's press release, "pioneering technology from Jaguar Land Rover's Advanced Research unit" will be previewed for the first time. We'll bring you more details as they emerge in the build up to the New York show.