Land Rover Discovery family set to grow
Current Land Rover Freelander will be replaced by a new model rebranded as Discovery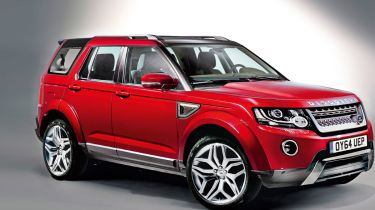 Land Rover is planning a major shake-up of its range structure – and it'll start with the replacement for the Freelander, codenamed L550.
As our exclusive image shows, it will be rebranded as a baby Discovery, and will sit below the full-size model in the line-up when it arrives in 2015.
Official details on the new Discovery range will begin to emerge in the first half of 2014 (possibly at the Geneva Motor Show in March), to coincide with the Discovery's 25th anniversary. The full production version will then star at September's Paris show.
The radical rethink is part of Land Rover's long-term strategy to divide its products into three distinct 'pillars'. The 'luxury' pillar already contains the three Range Rover models; it will be rounded off by a luxurious £120,000-plus Range Rover Ultimate at next month's Dubai Motor Show, plus a long-wheelbase Range Rover that'll debut at the LA show, also next month.
The 'dual purpose' pillar will contain the new Defender family. This leaves the Discovery and its new baby brother to fill the 'leisure' pillar – hence the Discovery lettering on the nose, which takes cues from the recently revealed 2014 model.
Elsewhere, the new baby Disco distances itself from the more stylised Range Rover Evoque with rugged, slab-sided proportions, roof rails and chunky underbody protection. The front end features a more three-dimensional grille and narrower headlamps with daytime running lights.
The model shown here is a five-seater, like the current Freelander, but a stretched-wheelbase 5+2 version will also be offered for the first time. Yet while the bodywork, interior, engines and badge will be new, the underpinnings will be carried over from the current Freelander.
For the full story and more exclusive pictures, see the latest issue of Auto Express on sale now.