New Land Rover Discovery Vision Concept: details and pics
New three-model Land Rover Discovery range previewed by Discovery Vision Concept at New York Motor Show 2014
Twenty five years after the launch of the iconic Land Rover Discovery, Land Rover's Discovery Vision Concept previews a family of not one but three new Discovery models to arrive over the next few years.
Revealed at this week's New York Motor Show, the concept features some of the most advanced technology we've ever seen on a car, from gesture control to smart glass that displays information for all seven occupants. It's wrapped in a striking new body which introduces design features that'll appear on all three forthcoming Discovery models.
LR Discovery Vision Concept: previews three-model Discovery range
First we'll see a replacement for the Land Rover Freelander, rumoured to be badged Discovery Sport, that will be available with five or seven seats. Then comes a new full-size Discovery (which insiders say will be similar in design and proportion to the Vision Concept). Finally, for now, the third Discovery model is expected to be an offshoot of one of these cars, most likely to be smaller than the current Freelander and Range Rover Evoque.
Auto Express dropped in at Land Rover's HQ to get the inside track on the new Discovery family from Land Rover design director and chief creative officer Gerry McGovern.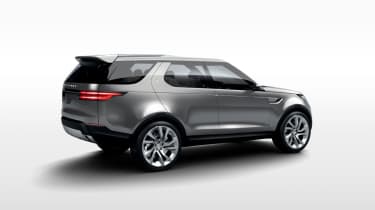 "This car encapsulates our vision for a Discovery family," said McGovern. "Rather than produce one car that fits all, we wanted to do a family that can broaden our reach, as the Evoque did with Range Rover. We'll reach a bigger market by taking the essence of the Discovery and presenting it in different scales."
McGovern told us the SUV market will be "20-odd million cars a year" by 2020, with the biggest sector being leisure SUVs. That fits nicely into Land Rover's three-pillar strategy, with Range Rover representing luxury, Discovery leisure and Defender dual-purpose.
• Read all our New York Motor Show 2014 coverage
The Vision Concept is described by McGovern as "Discovery-sized-ish", but it looks more compact. There's a clear nod towards aerodynamics for improved mpg: "The current car's very rectilinear – form follows exercise. We've moved it to become more premium, less utilitarian."
He continued: "We want to give the whole range greater appeal, and this design language goes much further in differences than, say, between the Range Rover and Range Rover Sport. There'll be a clear difference between the three pillars, but the Discovery will be closer to the Range Rover (in premiumness and finish) than the Discovery will be to the Defender."