'Land Rover's reliability is the elephant in the room'
Editor-in-chief Steve Fowler has been impressed with the new Range Rover, but hopes Land Rover's reliability issues won't hold the luxury SUV back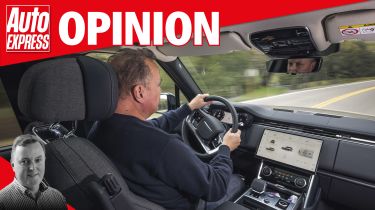 There's no doubt that the new Range Rover is an incredible piece of design and engineering. I was blown away by how well it drives and was really surprised how much I enjoyed throwing it around some seriously twisty roads. You forget just how big and heavy it is – until you slide out of the super-comfy driver's seat and your feet eventually hit the ground!
There's an incredible amount of tech on board, too, and some real high-end luxury features – the quality seems to be superb. However, there's one question that hangs over the Range Rover (and other JLR products) and one which must be banished for good with this car. Being honest, whenever I recommended a Land Rover to people in the past, it was with a caveat: it might go wrong.
Reliability is not the brand's strongest suit – and it's not just us saying so. Our own Driver Power survey data proves owners are frustrated. And mud sticks – as social media proved when I uploaded a video of the clever motorised Club Table in a top-spec Range Rover SV rising into position. Responses included: "Another feature to go wrong", "Give it 12 months and that's the only electrical component that'll work", and "So much to rattle after 18 months and then fail just after the warranty ends". JLR is aware of its issues and its reputation, and we're assured no stone is being left unturned in addressing them.
Two things will help the new Range Rover: millions of pounds have been spent on the plant in Solihull to build the new car; we're told it's like a new factory and we know new factories tend to build better-quality cars, as we've seen with the Defender, built in a brand-new facility in Slovakia. Then there's the new electrical architecture, with software-over-the-air compatibility, which can fix problems before customers know there are problems.
This Range Rover deserves to succeed, but that success must come with reliability. Let's hope that this time it will.
Click here for our list of the best luxury SUVs...