Electric Range Rover Classic conversion from Inverted comes with 450bhp and 200-mile range
British firm Inverted unveils its first model - an all-electric Range Rover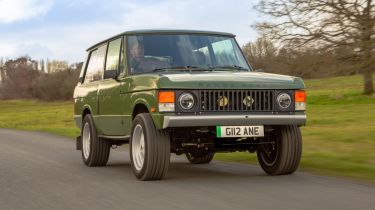 If you want to take a classic car and give it an electrified powertrain, the boxy original Range Rover Classic might not be the most obvious choice. Well, Inverted has taken on the task and revealed its electric interpretation of the British icon. 
Inverted is a specialist company that deals with 'EV regeneration' as it puts it. The Range Rover Classic has been given a host of upgrades besides the electric powertrain and customers can place orders now, although they'll have to move quickly with a maximum production run of six per year. 
While removing the original mechanicals in favour of an EV powertrain might rile traditional Range Rover fans, at least they should appreciate the unchanged exterior. Inverted says "the exterior is returned to its former glory".
The inside however does get some modern creature comforts with Apple CarPlay and Android Auto connectivity on a new screen positioned at the bottom of the dash "to not distract from the car's original features" as Inverted says. There's also extra soundproofing, air conditioning, central locking, a reversing camera, upgraded sound system, heated seats and USB charging ports. 
The leather upholstery is sourced from Muirhead in Scotland and there's contrasting tweed on the seat inserts to give it some additional classic Range Rover appeal.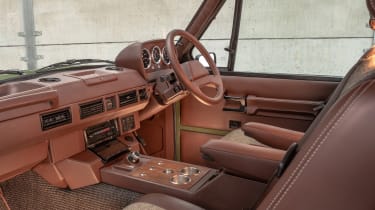 The big change, of course, comes in the form of the electric motor and Tesla-sourced reconditioned 80kWh battery module. It puts out 450bhp and 600Nm of torque, sending power to all four wheels with a limited slip differential. That extra power (270bhp more than the original 3.9-litre V8 Range Rover) means the 0-62mph time is just five seconds. 
To cope with the instant electric power, the Range Rover Classic's axles have been restored and uprated, Alcon front brakes are added and with the optional road handling pack there's adjustable shock absorbers, anti-roll bars and 25 per cent stiffer springs. 
Inverted claims the electrified Range Rover Classic will do 200 miles on a single charge. A CCS charger will allow for 100kW recharging speeds - meaning a 20 to 80 per cent charge should take around 34 minutes. A 6.6kW on-board charger is also included. 
The electric Range Rover Classic comes in two- and four-door guises with pricing starting from £225,000.  
Now read our full in-depth review of the modern Range Rover...