Range Rover vs rivals
Can the new Range Rover really be the best luxury car and best SUV in one? We find out as it takes on the Audi A8 and Porsche Cayenne Turbo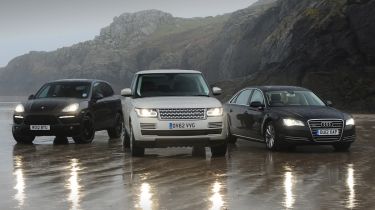 The all-new Range Rover is billed as the world's most refined and capable luxury SUV. And in the isolation of our road test special, where we compared it with its predecessors, the car impressed with its peerless off-road ability and superb refinement.
But where does it fit in at the top of the luxury car tree? Is it really as comfortable as a limousine? And has Land Rover's weight reduction programme given it the handling its predecessor could only dream of?
For its first challenge, we've lined up the £84,695 SDV8 Vogue SE against two rivals that will test all of the Range Rover's talents. First up is the Audi A8 L. It's one of the best luxury saloons on the market, and it matches the Range Rover with a V8 diesel, four-wheel drive and opulent cabin, all for nearly £10,000 less.
For the same money as the SDV8, you could have one of the most performance-focused SUVs on the planet: the Porsche Cayenne Turbo. The Range Rover will have a tough task to match it for on-road handling – but if the newcomer can take victory in these tests, it can rightly claim to be one of the best cars in the world.
Verdict
This test proves it: the new Range Rover is one of the most accomplished luxury vehicles in the world. It has the refinement, comfort and ride quality to take on a car like the Audi A8, yet at the same time it retains proper off-road ability and has a healthy dose of practicality, too.
Even more impressively, it handles well enough that it's as entertaining as a sports-focused SUV like the Porsche Cayenne Turbo.
It's hard to think of a journey, lifestyle or road condition that the Range Rover would fail to take in its stride. Better still, we think it looks great, and its image has never been stronger.
It's expensive, but the Range Rover isn't just a great SUV – it's the ultimate all-rounder.