New Lexus LF-Z Electrified concept previews brand's EV future
The new Lexus LF-Z Electrified concept boasts a four-wheel drive system with 536bhp and 700Nm of torque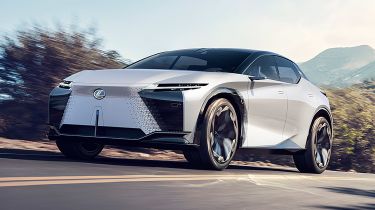 Lexus has given a preview of how its pure-electric models could look with this dramatic LF-Z Electrified concept.
The new creation is a four-seat SUV crossover that has a cab-rearward design that's unusual for an EV. Lexus says the car sits on a bespoke electric platform, which is almost certain to be e-TNGA, the EV-specific underpinnings on which sister brand Toyota will base its upcoming BZ series of models.
The Lexus LF-Z Electrified is 4,880mm long and 1,600mm tall – so just 10mm shorter than Lexus's current flagship SUV in Europe, the RX, but with a roofline a full 80mm lower than that car's. The EV's wheelbase is 160mm longer, too, while the front-end styling shows how Lexus is planning to evolve its complex 'spindle grille' when there's no need for the intake to cool an internal combustion engine.
Inside, there's a driver-focused layout in the front, with a mixture of switches on the steering wheel and a head-up display. The rear of the cabin features two bucket seats.
The LF-Z features Lexus's DIRECT4 four-wheel-drive system and an electric motor set-up producing a total of 536bhp and 700Nm of torque – enough to take the LF-Z Electrified from 0-62mph in 3.0 seconds. Lexus says the battery is a 90kWh lithium-ion unit, and that the LF-Z can travel for up to 600km (373 miles) between recharges. Its maximum recharging speed is 150kW.
Lexus now plans to launch 20 all-new or redesigned models over the next five years. That includes more than 10 pure-electric, plug-in hybrid and regular hybrid vehicles, and the company's president, Koji Sato, confirmed that the first of the new Lexus cars will arrive before the end of 2021.
"Starting with two new models to be released this year," he said, "we will continue to develop innovative products that will add colour to the diversifying lifestyles of our customers."
Click here to read our review of the all-electric Lexus 300e...