Safest hybrid and electric car: Lexus ES
A second award for the new Lexus executive saloon, this time in the 2018 safest hybrid and electric category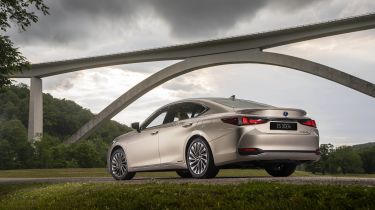 Not content with the large family car award, the Lexus ES was also awarded the first-ever hybrid & electric award from Euro NCAP. Why the Lexus ahead of the other car tested with an alternative fuel source, the Hyundai Nexo? Well, the Lexus had a higher set of percentage scores to go with its five-star overall rating.
The ES is an executive saloon that offers petrol-electric drive and a plush interior that's packed with comfort and technology. And there's more technology under the skin, with autonomous emergency braking, lane departure warning and speed limit detection all fitted.
And there are the usual suite of active safety features you would expect from a premium saloon such as this. This includes knee airbags for both driver and passenger, as well as curtain and side airbags that run the full length of the cabin, protecting front and rear seat occupants equally.
As already mentioned, the Lexus ES was the first winner of the Best Hybrid & Electric Car award, although with so many new hybrids and EVs due in showrooms, it will do well to hold on to its crown at the end of 2019.