Lexus GS F spied: 500bhp M5 beater on the way!
Lexus GS F will take on the BMW M5 and feature an uprated version of the new 5.0-litre V8
Lexus finally has an answer to the BMW M5. Spied for the first time, the GS F will become the Japanese manufacturer's most powerful production car when it arrives in 2016, using a lightly tuned version of the 5.0-litre V8 engine found in the RC F. Noticeable aero tweaks and mechanical upgrades over the standard GS have also been implemented to manage the hike in power.
Although heavily disguised, there are several tell-tale design cues from Lexus' F performance sub-brand visible on the prototype. Wider air intakes at the front, arch-filling alloys and the stacked quad exhausts at the rear give you an immediate clue as to what's lurking beneath the bodywork.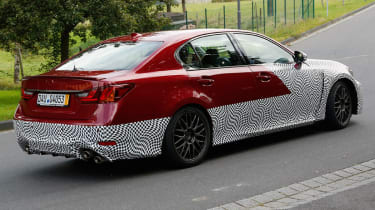 The all-new 5.0-litre V8 from the RC F is to be lightly modified, so around 500bhp isn't out of the question. The transformation from luxurious executive saloon to high-performance M5 beater, means Lexus will carry over a large proportion of tech and mechanical tweaks from the 471bhp RC F. A Torsen rear differential as well as the eight-speed automatic gearbox will feature on the GS F.
To help accommodate the extra grunt, Lexus will strengthen the chassis of the GS. Yet, as the RC F is the more sports-orientated coupe, it will remain the more hardcore of the two.
There's no official word on pricing as yet, but expect the GS F to cost in the region of £80,000.