Lexus to launch "high-output" hydrogen luxury car by 2020
Lexus previews hydrogen fuel-cell powertrain tech in LF-FC concept at Geneva 2016, showcasing LS successor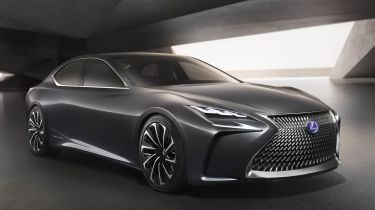 Lexus is pulling out all the stops ahead of the Geneva Motor Show. Not only will we be seeing the stunning LC500h hybrid coupe, but the LF-FC saloon concept previews a production hydrogen car for 2020.
We've been treated to the LF-FC previously at the 2015 Tokyo Motor Show, but Geneva at the start of next month will be its European debut. Ahead of the event, Lexus has confirmed it provides a taster for a planned production hydrogen model due in the next four years.
• Could you really live with a hydrogen car?
We knew already that a toned-down LF-FC will go on sale in the next few years to replace the LS luxury saloon, which was first launched in 2012. But this is the first time the Japanese luxury brand has committed to a fuel-cell production model, following in the footsteps of parent company Toyota with the Mirai.
President Tokuo Fukuichi elaborates: "Lexus wants to surprise and evoke emotion with its distinctive design and forward-thinking technology. For us, it is more than just a car; we want to exceed conventional imagination. The LF-FC expresses our progressive luxury and high-tech vision of a not-so-distant future."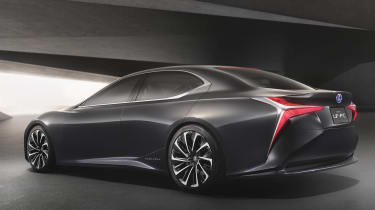 Lexus believes a hydrogen powertrain is the "ideal choice for the luxury automative segment", due it's exceptionally smooth running, long driving range and "outstanding energy efficiency".
The hydrogen system in the LF-FC is totally unique for the brand. It drives the rear-wheels through fuel-cell powered electric motors, and can also send power to two front in-wheel motors to effectively give the saloon all-wheel drive.
The fuel cell stack sits art the rear, with the power control unit and hydrogen fuel tank forming a T-shape in the middle of the chassis. Lexus claims it provides perfect weight distribution and "precise control of torque distribution".
The brand has also released further details on the LF-FC's autonomous driving tech. It debuts a system called the "Mobility Teammate Concept", which uses a variety of cameras, radar units and 'LIDAR' sensors to allow fully automated motorway driving.
Gesture control tech also features in the cabin, like that found in the BMW 7-Series. It allows the main multimedia and feature controls to be operated by natural hand movements in the air.
Find out more about the 2016 Geneva Motor Show here...