Lotus Elise Cup 260 track monster limited to 30 examples
As part of Lotus' 70th anniversary, the ultra-exclusive Elise Cup 260 is race-bred for the track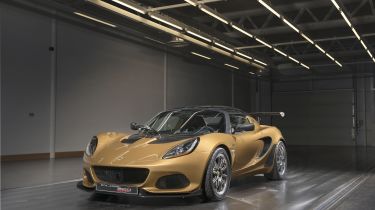 Lotus has launched an ultra-exclusive track-day special Elise called the Cup 260, and only 30 examples will be made.
With a chassis developed by Lotus Motorsport, it is an evolution of the recently launched Elise Cup 250 and uses the same 1.8-litre supercharged Toyota four-pot producing 250bhp and 255Nm of torque. Weight has been reduced slightly to 862kg from the Cup 250's 884kg, giving the Cup 260 a power-to-weight ratio of 290bhp per tonne.
Acceleration has been boosted, with a 0-60mph time of 3.8 seconds, half a second up on the Elise Cup 250. However, the top speed has fallen slightly to 151mph from the donor model's 154mph figure.
The 3mph top speed deficit is a result of race-car derived aerodynamics. Taking pieces of the Exige Cup 380 and Evora GT430, the Elise Cup 260 generates up to 180kg of downforce with its high mounted rear wing and carbon fibre front splitter.
Adjustable high-performance dampers are fitted to the Cup 260, a first for the Elise range, alongside independent double wishbone suspension and coaxial coil springs. Grippy Yokohama tyres have been widened by 10mm to provide ultimate track-day performance while remaining road legal.
The Elise Cup 260 has been finished in a gold paint scheme to celebrate the 70th anniversary of Lotus. The carbon fibre racing seats are finished in alcantara with gold stitching around the seats. The 30 lucky customers will have to fork out £59,500 for what Lotus describes as a future classic.
Is the Lotus Elise Cup 260 on your wish list? Let us know in the comments...