Lotus Evora 400 Blue & Orange Edition revealed
Lotus introduce limited run Evora 400 designed by fans to help celebrate the 50th anniversary of their Hethel HQ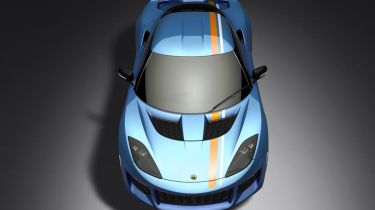 To help mark the 50th anniversary of their factory and headquarters in Hethel, Lotus has introduced a limited edition version of the Evora 400 - called the Blue & Orange Edition - which has been designed by Lotus fans. As the name suggests, it has been finished in a distinctive blue and orange colour scheme, which was inspired by the famous racing colours first seen in the 1960's.
The design was voted for via polls posted on social media websites such as Facebook and Twitter, with all the options composed by Lotus' design team. Jean-Marc Gales, CEO of Group Lotus plc, announced that only 10 would to be built and therefore he expected the model to "quickly become very desirable." All the cars will be manufactured in Hethel, Norfolk.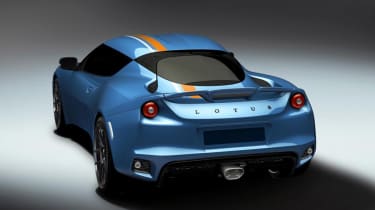 The car's unique image will be created with a special paint colour topped with orange and white stripes. The concept is to give the Evora 400 a retro look while retaining its modern traits.
• Lotus Evora Hethel Edition 400 announced
The Evora 400 has a mass of 1,395kg and a top speed of 186mph, while it emitts 225g/km of CO2. The mid-mounted 400bhp 3.5 litre V6 engine produces 410Nm and can accelerate from 0-62mph in 4.1 seconds of torque and the model as a whole generates a significant downforce of 32kg at 150mph.
What do you think of the limited edition version of the Lotus Evora 400? Let us know below...