Mazda 3 SKYACTIV-CNG concept
Mazda will unveil a new CNG concept at the Tokyo Motor Show, along with engine variants available in the new Mazda 3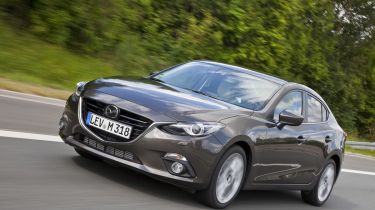 A new Mazda 3 SKYACTIV-CNG concept will be unveiled at the Tokyo Motor Show next month. The Japanese manufacturer will also showcase a variety of engines available for the recently introduced Mazda 3.
The CNG (compressed natural gas) concept vehicle adopts a dual fuel system that enables the car to run on both petrol as well as CNG. Mazda claims only minor engine modifications were necessary for the CNG conversion as the SKYACTIV-G petrol motor already achieves a high compression ratio, something which is vital for CNG engines in order for them to burn fuel.
Mazda also claims the use of a CNG engine could reduce fuel consumption by up to 20 per cent compared with a petrol-powered counterpart.
There's no word on whether the CNG engine will be put into production but Mazda confirms 'it hints at the direction of future models'. The manufacturer also notes the increasing demand for CNG-powered vehicles but says it's purely a concept car at the moment.
Mazda has also recently introduced a hybrid variant to the range but it is only available in Japan. It pairs an electric motor with a specially designed 2.0-litre SKYACTIV-G petrol engine and Mazda confirms there is the possibility it could make its way over to UK shores depending on its reaction from the Japanese market.