Mazda 6 vs Ford Mondeo vs Volkswagen Passat
After the success of its first-generation 6, Mazda believes it has moved the game on again with the new model. But has it improved enough to beat the class-leading Ford Mondeo and VW Passat? We set the 6 its toughest test...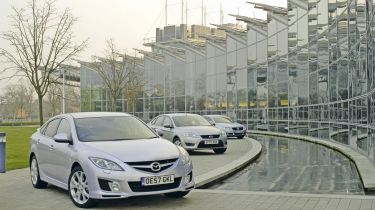 Before the launch of the 6 in 2002, Mazda had little presence in the family car market. Its only offering was the bland 626, which found few fans in the UK.
However, the 6 changed all that. It surprised more than a few people, thanks to its well packaged interior, distinctive looks and fine driving experience – which was helped by the fact it was based on parent company Ford's Mondeo.
The big question now is whether the firm can maintain this momentum with the new car. Mazda claims that the latest 6 is the best example of the brand's strategy to move to a more premium level, while retaining its sporting credentials. Along with sharp styling, the newcomer is designed to be more refined and comfortable than before, while aggressive pricing and generous equipment complete the package. But standing in its way are two mainstays of the UK market – the Ford Mondeo and Volkswagen Passat.
The former is an Auto Express favourite, as well as our current Car of the Year. Since its launch, we've been impressed with its excellent driving dynamics and superb interior, so the Mazda has a real challenge on its hands.
And then there's the Passat. Rock-solid build quality and reliability underpin the German saloon's success – despite the absence of a hatchback version – while the VW badge carries plenty of appeal. So can the Mazda claim two famous scalps to become the cream of the family car sector?
Verdict
Mazda hasn't lost its touch. The 6 is an impressive performer: stylish, modern and affordable, with keen handling. However, the firm's attempts to make the car feel both sporting and luxurious haven't been entirely successful.
It doesn't have the Mondeo's refinement and composure when cruising, and while build and material quality are good, they can't quite match its rivals'. But it's still the best-looking family car around, and spacious and practical.
The excellent Ford Mondeo retains its crown as our class favourite. Again we're impressed by the unfussy way in which the Ford goes about its business – it's easy to get on with, yet also rewarding to drive.
The Passat finishes third. It remains the most upmarket, and the engine is the best here, but it's neither as practical, nor as good value, as its rivals. The Mazda also comprehensively beats it in terms of standard equipment.