Mazda 6 vs Vauxhall Insignia Grand Sport vs Skoda Superb
Can large family cars still make an impact? We test the new Mazda 6 against the Vauxhall Insignia Grand Sport and Skoda Superb
When many buyers think about a large family car, the first thing that comes to mind these days is likely to be an SUV of some kind, because these are among the most popular models on sale at the moment.
However, another set of cars fits that label, and in many ways they're much more attractive than pumped-up 4x4s. Big family cars such as the new Mazda 6, Vauxhall Insignia Grand Sport and Skoda Superb are more practical than an SUV costing the same amount.
In addition, as a rule of thumb, they're better equipped, more comfortable, better to drive and have much more rear legroom. Their great-value status means they're top buys, despite not being the most fashionable choices right now.
But which of these three large family cars is best? The recently updated Mazda now features a larger, more powerful petrol engine, so we've pitched it against the Vauxhall with its own new petrol unit and the established Skoda to find out.
Mazda 6
| | |
| --- | --- |
| Model: | Mazda 6 2.5 SkyActiv-G GT Sport Nav+ |
| Price: | £30,795 |
| Engine: | 2.5-litre 4cyl petrol, 191bhp |
| 0-60mph: | 8.6 seconds |
| Test economy: | 36.9mpg/8.1mpl |
| CO2: | 153g/km |
| Annual road tax: | £140 |
The handsome Mazda 6 has been treated to a facelift this year, and is now available with a new 191bhp 2.5-litre petrol engine. It only comes with a six-speed auto gearbox and in top-spec GT Sport Nav+ trim, which means it costs from £30,795.
Get behind the wheel and it's immediately clear how well thought-out the 6's ergonomics are. The driving position is superb, along with the position of the pedals and controls in the cabin. It's a big contrast to the Vauxhall, where the gearlever is so far back that your left arm never feels comfortable, for example.
That well-engineered feel extends to the whole driving experience, because the steering weight is well judged, and while it's not overflowing with feedback, it's still the most dynamic choice here.
The new 2.5-litre engine adds weight over the lower-powered 2.0-litre unit, and because it's over the front axle the 6 isn't as agile. Still, the Mazda is fun and will hold the most appeal to enthusiasts here.
That's also partly down to the naturally aspirated engine, which is enjoyable to rev and sounds good as it goes through the gears, if a bit noisy. But the 6 is nowhere near as punchy as its rivals, and the automatic gearbox is the root cause of this.
If outright speed is your thing, the Mazda's engine isn't for you. It trails its competitors on power and torque, so the car was significantly slower both in gear and in our 0-60mph tests. It took 8.6 seconds to do the sprint, while the Vauxhall posted a time of 7.8 seconds and the launch-control-equipped Skoda took just 7.0 seconds.
The Superb is also the most powerful of the three cars, and with its sharp-shifting DSG, it went through the gears from 30-70mph in just 5.3 seconds. The Insignia clocked 7.0 seconds and the Mazda 7.5 seconds.
For that reason, we think a lower-powered 2.0-litre 6 with a manual box is a better pick. The auto operates smoothly, but it's slower to shift than the Skoda's DSG and can be frustrating to use.
On the motorway, the 6 is hushed and rides relatively well, but the damping is on the firmer side and on this trim's 19-inch wheels it fidgets in town.
Testers' notes: "This new engine isn't the sweet spot of the 6 range. Petrol fans will prefer the revvier, smaller-capacity units, and there are some efficient but punchy diesel motors available, too."
Vauxhall Insignia Grand Sport
| | |
| --- | --- |
| Model: | Vauxhall Insignia Grand Sport 1.6 Turbo 200 Elite Nav |
| Price: | £26,815 |
| Engine: | 1.6-litre 4cyl petrol, 197bhp |
| 0-60mph: | 7.8 seconds |
| Test economy: | 39.6mpg/8.7mpl |
| CO2: | 146g/km |
| Annual road tax: | £140 |
Vauxhall's Insignia Grand Sport was named Best Family Car at our 2018 New Car Awards, so it's the model to beat here. In the past it's offered top value for money and it continues that trend, because even though we're testing a top-spec Elite Nav, it's significantly cheaper than both rivals. With its new 1.6-litre turbo petrol engine, it costs just £26,815.
The new 1.6-litre turbo petrol engine is quiet, particularly at idle where it's barely audible in the cabin. It's also punchy despite being the smallest-capacity unit here, especially in the higher gears. It was fastest in our 50-70mph tests in fifth and sixth, taking 5.9 and 7.4 seconds respectively. The Mazda and Skoda posted times of 11.1 and 6.7 seconds respectively for their own fifth-gear tests, and 14.7 and 8.9 seconds in sixth.
With 300Nm of torque from just 1,700rpm, the Insignia doesn't require you to change gear too much to make progress. However, if you don't want to select ratios at all, that's not an option at the moment, because this engine is only available with a manual gearbox for now.
It's a pity it's the Vauxhall that has this limitation and not the Mazda, because the Insignia's shift is rubbery and not very satisfying. The manual in other versions of the 6 is excellent.
The disappointing shift action and lack of steering feel are a letdown, but the Vauxhall is far from bad to drive. Thanks to its balanced suspension set-up and fine driving position, the Insignia is nearly as good behind the wheel as its rivals here.
It isn't quite as agile as the Mazda, but at higher speeds it rides with more fluidity than the Superb. While the Insignia Grand Sport isn't as well controlled as the Czech model, it strikes a nice balance between ride and handling.
The compliant ride means that it's smooth on the motorway, but also deals with bumpy B-roads, so you can push it harder without losing grip. In fact the Vauxhall has lots of grip and, despite the low driving position, visibility is decent. However, the large 18-inch wheels on our test car did mean the hatchback felt a little harsh over potholes.
Testers' notes: "Our car came with a space-saver spare wheel (£110) in lieu of a tyre repair kit. That was lucky, since we ended up needing to use it on the route home from our road test location."
Skoda Superb
| | |
| --- | --- |
| Model: | Skoda Superb 2.0 TSI 220PS DSG SportLine |
| Price: | £30,570 |
| Engine: | 2.0-litre 4cyl petrol, 214bhp |
| 0-60mph: | 7.0 seconds |
| Test economy: | 32.5mpg/7.1mpl |
| CO2: | 147g/km |
| Annual road tax: | £140 |
The Skoda Superb is a previous winner in the family car class at our New Car Awards, and has never been far behind the Insignia at the top of the segment. We're testing the 214bhp 2.0-litre TSI with a DSG auto gearbox in SportLine trim, costing £30,570.
The Skoda glides over bumpy roads thanks to its well-judged set-up, but the dampers never lose control of the body and it copes with potholes very well, too. The driving experience is a little more detached, but the Superb is still a rewarding car to drive.
The steering is precise, so for a big car, the Skoda changes direction well. However, it's a bit light and there's very little feel or feedback through the wheel. Damping that takes the edges off bumps and does a good job of keeping the body stable means you can carry impressive corner speed with more composure than in either of its rivals.
Also, the Skoda regains some driver appeal with its performance. With 214bhp and 350Nm of torque, it's the most powerful model here and put in a very strong showing in our acceleration tests.
Launch control meant the Superb accelerated from 0-60mph in just 7.0 seconds, eight tenths faster than the Insignia and 1.6 seconds up on the 6.
The punchy but refined engine revs smoothly and is helped by the quick-shifting six-speed DSG gearbox. It's just as smooth as the Mazda's auto in normal driving, but it's also much faster when you shift using the paddles behind the steering wheel. The car was quicker from 30-70mph through the gears as well, taking just 5.3 seconds.
Despite the engine's relatively keen and revvy nature, it's easy in everyday driving thanks to that torque output. It's smooth and quiet when you're not driving quickly and unintrusive at motorway speeds.
Refinement is a strong point for the Superb, too, because wind and road noise are very much in the background on a motorway trip. We'd recommend going for adaptive dampers in this spec with big wheels, because while body control is good, the suspension could do with a little more compliance.
Testers' notes: "Skoda uses the term 'Simply Clever' to describe some of the Superb's useful features, such as the ice scraper in the car's filler cap and the removable torch that's stored in the boot."
Verdict
First place: Vauxhall Insignia Grand Sport
The Insignia Grand Sport retains its crown as the best family car, and once again it comes down to value for money. It's not as comfy as the Skoda nor as good to drive as the Mazda, but is nearly as good in those areas while, crucially, being cheaper to buy. It's also really spacious, especially in the back seats, and well equipped, plus the new petrol engine is quiet and punchy.
Second place: Skoda Superb
If it's outright space you're after, the Superb is still a top choice. It's also quiet, comfortable and great to drive, so it makes a brilliant family car for long trips. In addition, the Skoda is surprisingly quick and has the best gearbox here. But it loses out to the Insignia because it's a little too expensive in SportLine trim, and this 214bhp petrol engine is a bit thirsty.
Third place: Mazda 6
Finishing third in this group is no black mark on the Mazda 6's record. It's beaten by two brilliant family cars because of its disappointing engine and gearbox, as well as a relative shortage of space inside. It's still big enough for most families, plus it retains its fun driving experience, is comfortable, well built and packed with kit. Most people will love its handsome styling, too.
Other options for similar money...
New: Volkswagen Passat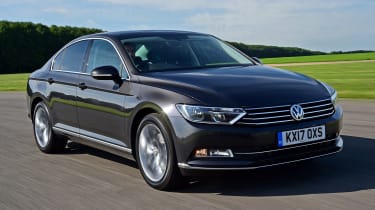 Model: VW Passat GT 2.0 TSI 220 DSGPrice: £32,080Engine: 2.0-litre 4cyl, 214bhp
Volkswagen's Passat is available with the same 2.0-litre turbo petrol as the Superb here, since both use the same MQB platform. The Passat isn't as roomy as the Skoda but it's still a top family car, with a classy design inside and out.
Used: BMW 3 Series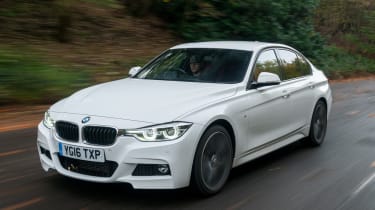 Model: BMW 530i M SportPrice: £32,000Engine: 2.0-litre 4cyl, 248bhp
If you've got the cash then this is the car to have. We found an 18-reg BMW 530i with delivery miles only for around £32,000. The current 5 Series is an amazing all-rounder: it's fun to drive, comfy, practical and full of technology.
Figures
| | | | |
| --- | --- | --- | --- |
| | Vauxhall Insignia Grand Sport 1.6 Turbo 200 Elite Nav | Skoda Superb 2.0 TSI 220PS DSG SportLine | Mazda 6 2.5 SkyActiv-G GT Sport Nav+ |
| On the road price/total as tested | £26,815/£28,335 | £30,570/£33,215 | £30,795/£31,595 |
| Residual value (after 3yrs/36,000) | £8,822/32.9% | £10,700/35.0% | £11,650/37.8% |
| Depreciation | £17,993 | £19,871 | £19,145 |
| Annual tax liability std/higher rate | £1,593/£3,187 | £1,819/£3,637 | £1,874/£3,748 |
| Annual fuel cost (12k/20k miles) | £1,789/£2,982 | £2,180/£3,634 | £1,920/£3,201 |
| Ins. group/quote/road tax | 17/£881/£140 | 25/£947/£140 | 16/£936/£140 |
| Cost of 1st/2nd/3rd service | £159/£249/£159 | £279 (2yrs) | £499 (3yrs) |
| | | | |
| Length/wheelbase | 4,897/2,829mm | 4,861/2,841mm | 4,870/2,830mm |
| Height/width | 1,455/1,863mm | 1,468/1,864mm | 1,450/1,840mm |
| Engine | 4cyl in-line/1,598cc | 4cyl in-line/1,984cc | 4cyl in-line/2,488cc |
| Peak power/revs | 197/4,700 bhp/rpm | 214/4,500 bhp/rpm | 191/6,000 bhp/rpm |
| Peak torque/revs | 300/1,700 Nm/rpm | 350/1,500 Nm/rpm | 258/4,000 Nm/rpm |
| Transmission | 6-spd manual/fwd | 6-spd DSG auto/fwd | 6-spd auto/fwd |
| Fuel tank capacity/spare wheel | 62 litres/repair kit | 66 litres/repair kit | 62 litres/repair kit |
| Boot capacity (seats up/down) | 490/1,450 litres | 625/1,760 litres | 480 litres/N/A |
| Kerbweight/payload/towing weight | TBC | 1,450/650/2,000kg | 1,532/488/1,500kg |
| Turning circle/drag coefficient | 11.2 metres | 11.1 metres | 11.8 metres |
| Basic warranty (miles)/recovery | 3yrs (60,000)/1yr | 3yrs (60,000)/3yrs | 3yrs (60,000)/3yrs |
| Driver Power manufacturer/dealer pos. | 22nd/21st | 6th/8th | 9th/24th |
| NCAP: Adult/child/ped./assist/stars | 93/85/78/69/5 (2017) | 86/86/71/76/5 (2015) | 92/77/66/81/5 (2013) |
| | | | |
| 0-60/30-70mph | 7.8/7.0 secs | 7.0/5.3 secs | 8.6/7.5 secs |
| 30-50mph in 3rd/4th | 3.5/5.0 secs | 3.1/4.6 secs | 4.6/7.4 secs |
| 50-70mph in 5th/6th | 5.9/7.4 secs | 6.7/8.9 secs | 11.1/14.7 secs |
| Top speed/rpm at 70mph | 146mph/2,500rpm | 152mph/1,900rpm | 138mph/2,250rpm |
| Braking 70-0/60-0/30-0mph | 47.8/34.6/8.7m | 52.9/36.9/8.7m | 49.7/33.2/9.2m |
| Noise outside/idle/30/70mph | 69/42/69/74dB | 70/44/62/71dB | 64/43/62/70dB |
| Auto Express econ. (mpg/mpl)/range | 39.6/8.7/540 miles | 32.5/7.1/472 miles | 36.9/8.1/503 miles |
| Govt urban/extra-urban/combined | 35.6/52.8/44.8mpg | 34.9/51.4/43.5mpg | 32.1/52.3/42.2mpg |
| Govt urban/extra-urban/combined | 7.8/11.6/9.9mpl | 7.7/11.3/9.6mpl | 7.1/11.5/9.3mpl |
| Actual/claimed CO2/tax bracket | 165/146g/km/30% | 201/147g/km/30% | 177/153g/km/31% |
| | | | |
| Airbags/Isofix/park sensors/camera | Six/yes/yes/£350 | Seven/yes/yes/£355 | Six/yes/yes/yes |
| Auto box/lane keep/blind spot/AEB | No/yes/£650*/yes | Y/£860**/£365/y | Yes/yes/yes/yes |
| Clim ctrl/cruise/leather/heated seats | Yes/yes/yes/yes | Y/y/Alcantara/£255 | Yes/yes/yes/yes |
| Metallic/LEDs/keyless/power tailgate | £605/yes/yes/no | £595/no/yes/£405 | £680/yes/yes/no |
| Nav/digi dash/DAB/connected apps | Yes/yes/yes/£415^ | Yes/no/yes/£90^^ | Yes/yes/yes/yes |
| Wireless charge/CarPlay/Android Auto | £160/yes/yes | No/yes/yes | No/£350/£350 |